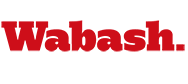 Wabash Women Star in Vanity Theater Production
April 14, 2010

English professor Crystal Benedicks as a gold-digging, two-timing vamp? Spanish professor Jane Hardy as a French maid? Pam Sacco as a tough exercise instructress? Jill Rogers as a saintly wife who gives all her money to her husband? All of these Wabash women are starring in the Sugar Creek Players production of The Women, which continues its run next Friday at the Vanity Theater.

When Clare Boothe Luce wrote her biting, satirical play The Women in the 1930s, it was both a Broadway smash hit and scandalous at the same time. It became an instant classic then and has remained an audience favorite, spawning two motion pictures and a recent Broadway revival starring some of America's finest actresses (Jennifer Coolidge, Kristen Johnston, Cynthia Nixon, Jennifer Tilly, Rue McClanahan).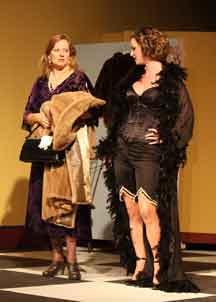 The Women
can be seen at Vanity Theater this Friday and Saturday night at 8 p.m. or Sunday at 2 p.m.
The community theater production features a nearly equal mix of local stage veterans and women from Wabash.
Wabash women making their Vanity Theater acting debut include Chris Amidon, Crystal Benedicks, Jane Hardy, Sharon Hankins, Lynne Miles-Morillo, Alice Phillips, Jill Rogers, and Pam Sacco. Lanie Rogers, daughter of Jill an Dan Rogers, stars as Little Mary.
College Archivist Beth Swfit is directing the production, while alumni Jerry Bowie and Jim Amidon are co-producers. The Wabash Theater Department's costumer, Andrea Bear, designed the costumes, while teacher education professor Amy Gillan stylized the sets. Alumnus Tyler Bernet designed the lighting for the show.
All of the Wabash women will take the stage with veteran community performers like Niki Hutson, Nancy Rodenbeck, Stephanie Pool, and Amy Woodall, who literally grew up with the Sugar Creek Players and have been involved all their lives.
Clare Boothe Luce's social satire The Women is set in the world of high society wives in New York City during the height of the Great Depression. Mary Haines (played by Chris Amidon) learns from a gossipy manicurist (Joyce Meyer) that her husband, Stephen, is having an affair with a shop-girl named Crystal (Crystal Benedicks). After the news of Stephen's affair is published in a gossip column, Mary decides to divorce him. Mary later learns that Stephen has married Crystal — and that Crystal has been unfaithful to him. With the help of her friends, Mary sets out to expose Crystal's infidelity in order to win Stephen back.
It's a story about deep friendships and wicked acquaintances, class and power struggle, and deceit, desperation, and infidelity.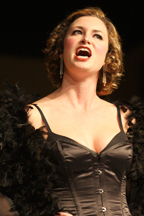 "
The Women
is a play about women's relationships with one another, and so it is fitting the show has brought together women from all over Crawfordsville," said Benedicks, who is an English professor at the College.
"I've met women I wouldn't have otherwise: we sit together backstage to practice our lines and misapply our stage make-up, and talk about all the things we're doing in our daily lives, from writing dissertations to teaching classes to running local shops, businesses, and museums. I've lived in Crawfordsville for three years, but this is the first time I've truly felt immersed in the community."
Swift, who is making her debut as a director, has brought together a cast that is composed in almost equal parts of "town and gown."
"It has been wonderful working with such amazing women," Swift said. "Most of these ladies have really busy lives and yet they found the time to make this show come alive. It really says a lot about the strength of community and the arts in Crawfordsville."
Swift brings her long-time love of the theater and her abiding passion for history to this piece. The result is a step back in time to the Park Avenue society of the late 1930's. The costumes are almost entirely vintage.
"Thanks to the clever costume designs of Andrea Bear and the hairdressing skills of Nancy Waddell, these ladies look spectacular," Swift said. "Our women have had a lot of fun trying on the different clothes and really getting a feel for fashion in the 30's."
Several scenes stand out — for their content and the performances of the actresses. Early in the drama, Benedicks (as Crystal Allen) and Amidon (as Mary Haines) confront one another in a fashion salon. Haines swears her husband, Stephen, doesn't really love Allen and that he's just amusing himself. Benedicks, with "jungle red" claws out, quips, "He's been doing the best he can under the circumstances." (Photo top right.)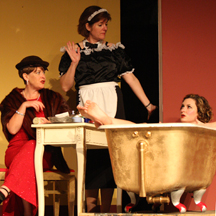 Another memorable moment occurs mid-way through the show when the Mary and Stephen Haines have divorced and Stephen has married his flame, Crystal. Benedicks, luxuriously bathing in a vintage cast iron bathtub, gets caught by her step daughter (Lanie Rogers) while talking on the phone with her new lover.
The slip-up sets the stage for an explosive ending.
Niki Hutson has been involved in literally dozens of Vanity Theater productions, but said this play is different on two levels.
"Working on this show has been so much fun because there is a dynamic mix of women who have been part of the Sugar Creek Players for years with women who had never stepped foot in the theater prior to auditioning," Niki Hutson said. "And it's also nice that we have so many women associated with Wabash involved with this production. And it's ironic that we've built this strong 'town-gown' relationship not with the men of Wabash, but with Wabash's women."
The production staff for The Women includes students Joey Fogel and Jose Herrera, as well as faculty/staff children Sammie Amidon, Trey Rogers, and Henry Swift.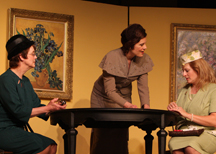 Tickets for
The Women
are on sale at the Vanity Theater Box Office. The Box Office is open from 11:00 a.m. to 1:30 p.m. each weekday, and orders may be placed by phone at (765) 362-7077. The Box Office opens one hour before each production. Wabash students get a discount on tickets by showing their student ID cards.
Starring in the Sugar Creek Players' production of The Women are Chris Amidon (Mary Haines), Crystal Benedicks (Crystal Allen), Allison Clark (Jane), Sarah Comerford (Maggie), Kelli Demoret (Hair Dresser & Society Woman), Sharon Hankins (Miss Trimmerback), Jane Hardy (Miss Fordyce), Morgan Hepburn (Lovely Fashion Model), Elizabeth Hutson (Hairdresser) Niki Hutson (Sylvia Fowler), Jennifer Jeffers (Lucy), Joyce Meyer (Olga), Lynne Miles-Morillo (Nancy Blake), Alice Phillips (Miss Watts), Stephanie Pool (Edith Potter), Stephanie Reinert (Miriam Adams), Nancy Rodenbeck (Countess de Lage), Abby Rodenbeck (Princess Tamara & Debutante), Jill Rogers (Peggy Day), Lanie Rogers (Little Mary), Lani Ropkey (Mrs. Morehead), Pamela Sacco (Exercise Instructress), Terry Swift (Nurse), Barbara Walden (Dowager), and Amy Woodall (Miss Shapiro).