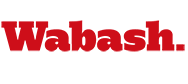 Olofson Chapel Talk: 'Shut Up and Listen'
April 8, 2010

"Shut up and listen," was BKT Assistant Professor of Psychology Eric Olofson's advice to Wabash men Thursday in the weekly Chapel Talk.

Olofson's point was to illustrate the merits of listening and dangers of talking for talking's sake. And he explained how hard it has been for him to not talk when he should be listening but used an example of a Wabash student who helped him change his ways.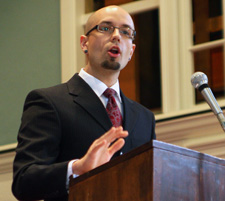 The talk is available on the Wabash College YouTube channel or in the video below.
Olofson had a sophomore in class who was, by all accounts, a very good student but seldom participated in classroom discussions. The Professor had a private meeting with the young man who explained that he enjoyed hearing other students' interpretations of the day's work and felt he learned best when listening to others.
He challenged the students and those at the Thursday talk to let go of some, if not all things, they're sure of and listen more. He asked students if they had definitive opinions at 16 and if they were ready to hold to the same thoughts at 36? If so, he reasoned, the four years at Wabash will do nothing to shape and influence the way any student thinks.
The Psychology professor said part of his learning at Wabash has been to 'shut up and learn from those around me … because if we don't listen, we don't learn."
He also re-enforced a popular explanation of the benefits of an all-male college. He noted during his time teaching in Oregon that females were predominantly those who answered questions and engaged in discussion in his classes. He added that the "being embarrassed in front of the ladies" concept was at work in those classrooms. "But one of the best aspects of teaching here is students are afraid of looking stupid. It's one of the best arguments for being an all-male student body."