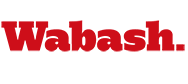 Benedicks Shares 10 Things She Knows About Writing
April 1, 2010

Visiting Assistant Professor of English Crystal Benedicks shared more than just the "Ten Things She Knows About Writing" in her Thursday Chapel Talk.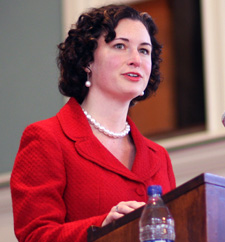 Benedicks titled her presentation "Ten Things" but offered some support that brought humor, insight, and maybe a little different way of looking at the writing process.
Watch Benedicks complete Chapel Talk in the video below or on the Wabash College YouTube Channel.
She noted that in her short time at Wabash when meeting alumni there is a consistent accolade. "They always say they're so grateful Wabash taught me how to write," she shared. The visiting professor said learning to write means" you'll stand out in your profession and you'll have influence."
She spent the first part of her talk noting the critics of college writing and how poorly most students perform. But when scholarly comparisons are made a reasonable argument emerges that while students may make as many mistakes as 100 years ago the assignments are far more difficult.
In running through her "Ten Things" she read the writing of Harvard students, quoted researchers on grammar and good writing, and used examples to illustrate the importance of the written word.
She debunked a few myths along the way. "Good grammar is not the same thing as good writing," she said. While the technical aspects of good writing are very important she used part of her talk to insist the thought process is equally if not more important.
She told Wabash men that developing good writing abilities would be the most important thing they'd learn in college.