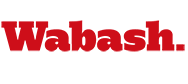 Richard Bowen: 'Old Wabash' Part of Our Orbit
March 25, 2010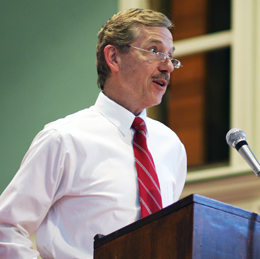 Assistant Professor of Music and Glee Club Director Richard Bowen combined a little science and music for Thursday's Chapel Talk.
Bowen 's complete talk can be seen at bottom of this story and on the Wabash College YouTube page.
Bowen titled his presentation"Journey to the Center of the Universe" and even involved the Wabash College Glee Club.
He began by talking about science, the planets and how orbits have been studied and how everyone has orbits all around them. "Most of us place ourselves at the center of the universe," he said. "There are orbits surrounding each of us: family, friends and acquaintances … things in our lives … our ever-changing notion of likes and dislikes.
"Most of us at Wabash College are surrounded by a dense web of interesting orbits."
Among those things in our orbit is the college song, "Old Wabash," Bowen said. "I've come to appreciate the degree of significance of our college song."
He noted that it's a fight song, a college song, but also something more to some people. In his ninth year at Wabash, Bowen shared an anecdote of alum's request to have the alma mater and Old Wabash sung at his funeral. Bowen gathered about 12 members of the Glee Club and sang the two songs. "It was very uplifting to that family."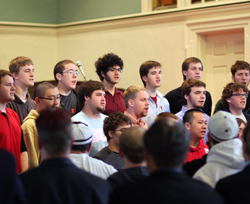 He wanted to make sure the Chapel audience fully appreciated a song that is sung so often around campus but not always taken for its beauty.
Bowen called the College Glee Club to the front and asked those in attendance to listen to the first verse then join in for the second. The young men came forward and sang "Old Wabash" with its harmony and musical 'dog-fights' before everyone closed with the second verse.