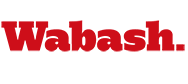 Promising Start to Outdoor Track Season
by Brent Harris

March 20, 2010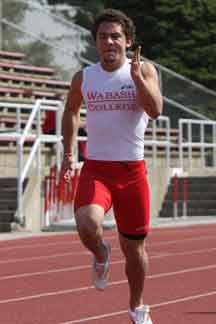 Wabash turned in 20 top-five performances in 2010 outdoor track and field season-opening home J. Owen Huntsman Relays meet Saturday afternoon.
See photographs from the meet here and here.
Emmanuel Aouad, Austin Hodges, Wes Chamblee, and the Little Giants' 1600-meter relay team each scored first place finishes. Aouad nearly reached the provisional qualifying time in the 110-meter hurdles in his first race of the season, winning the event with a time of 14.90. John Haley took fourth place (16.45), while Patrick Posthauer was fifth (17.02).
Hodges (right) crossed the finish line in 11.19 to win the 100-meter dash. Chet Riddle grabbed third place by finishing with a time of 11.48. Van Hunt was just outside the top-five, finishing sixth with a time of 11.64, while Devin Kelley was right behind in seventh (11.65).
Chamblee won the 400-meter hurdles with a time of 54.62. Billy Rosson was second, crossing the line in 57.50.
Jake Zielinski, Haley, Garett Bonk, and Chamblee (below left) combined to turn in a time of 3:17.64 for a first-place finish in the 4x400-meter relay. The Wabash "B" team of Andre Adeymi, Spencer Sheridan, Riddle, and Jake Ezell finished third overall with a time of 3:26.71. Wabash added a second-place finish in the 400-meter relay when the quartet of Hodges, Haley, Zielinski, and Chamblee produced a time of 42.82. Riddle, Ezell, Bonk, and Sheridan also combined to take second in the sprint medley relay (3:38.49), while the distance medley team of Donavan White, Adeymi, Micah Milliman, and Justin Allen were second with a time of 10:55.09.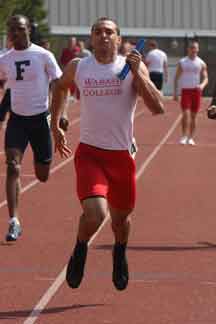 Matt Knox took second in the pole vault, clearing 4.11 meters (13 feet, six inches). Sam Glowinski topped out at 3.96 meters (13 feet) for fourth place. Jsoh Sparks was fifth (3.50 meters; 11 feet, six inches). Matt Scheller top mark of 13.22 meters (42 feet, 4-1/2 inches) was good enough for second in the shot put. Zach Helman added a third-place finish with a mark of 13.19 meters (43 feet, 3-1/4 inches). Joe Granger just missed a top-five finish with a mark of 12.36 meters (40 feet, 6-3/4 inches) to take sixth place in the meet.
Kris Klondoris finished fourth in the javelin, throwing a distance of 38.78 meters (127 feet, three inches). CJ Gum debuted in the discus throw with a toss of 37.86 meters (124 feet, two inches) to earn a fourth place finish.
Milliman added a fifth-place finish in the 3,000-meter steeplechase by finishing in 10:43.84.
Game Stats