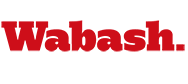 Students Participate in Honors Weekend
by Howard W. Hewitt

March 19, 2010

Nearly 400 high school seniors started learning a lot more about Wabash College Friday during the 117th Honor Scholarship Weekend.

The students came from across the country and around the world to test for scholarship support and to learn about life on campus.

Students checked in at the Allen Athletics and Recreation Center and checked out the activities fair. The fair has become a very popular addition to the weekend. It gives campus student groups, living units, and sports' coaches a chance to interact with each prospective student.

Parents were invited to pick the brains of current Wabash parents in a parents panel. Then, after the welcome and lunch with faculty and staff, parents heard from students about immersion learning opportunities and career services at Wabash. See photos from parent activities

here

.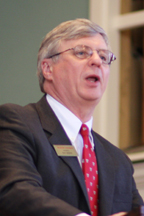 President Patrick White officially welcomed the young men and their parents at the Chapel. "There is no one way to become a Wabash man," he told the students and their families. "It is a complicated mix. Wabash men speak for themselves."
Then the president noted the varied immersion and service learning experiences and how students wrote extensively about each trip. "Wabash men speak for themselves and you, gentlemen, will find your voices as well. All Wabash education is personal. All Wabash education is face to face."
The President noted how the college strives to improve the student experience. A Chinese language course will be offered for the first time this fall. Wabash has also been working with Purdue for a smooth transition for an engineering degree and with Indiana University for young men wanting an MBA at the Kelley School of Business.
The President publicly announced the College will proceed with building a new baseball stadium, soccer field, and practice fields. Little Giant stadium will get new field turf for football, he said. He also said the College is in the early stages of a fund-raising campaign, which will support student scholarships, international learning, and career development.

Student Body President Cody Stipes talked about choosing a college and putting on a hat. The difference, he noted, was when Wabash men leave the College they may take off the hat, but Wabash never leaves them.
He also explained how students develop relationships with faculty. "Faculty don't just invite us into their offices, they invite us into their lives," Stipes '11 said. "And they become part of our lives, as well."

Chris Sidebottom '11, President of the Independent Men's' Association, talked about choices and the process of choosing a college. He added that is just the beginning of a lifetime of choices. He talked briefly about the Gentleman's Rule then explained why he was an independent.

Interfraternity Council President Alex Moseman '11 explained the Greek system at Wabash and encouraged the students to visit all of the houses. But he added Wabash men are more than their living unit.
"Students at Wabash consider themselves Wabash men first and foremost," he said. "I wanted to go to a college where I would be pushed."
The Honor Scholarship program, one of the oldest in the nation, gives students the opportunity to win scholarships from an available pool of nearly $3.5 million. The program also gives the students a chance to get a feel for life at Wabash College. Each year approximately 75 percent of the incoming class will have attended Honor ScholarshipWeekend.