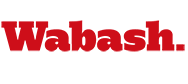 Waters' Reading Brings "Moments of Grace"
by Steve Charles

March 16, 2010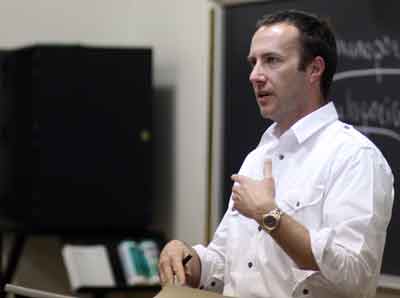 When he lived in Oakland, CA, GLCA New Writer's Award Winner Don Waters lived across the street from a mortuary and down the block from a crematorium.
"I was interested in what really happened there," Waters told Wabash students, faculty, and guests during a reading from his book Desert Gothic in Center Hall Monday night. "I went to the crematorium and talked to a guy who worked there, and he walked me through."
The result of that tour is the short story "What We Do With The Dead," the opening tale in Desert Gothic, winner of the 2007 Iowa Short Fiction Award.
"This is a sad moment for me," Waters confessed, noting his Wabash reading was the final stop on his GLCA tour. "I've enjoyed these readings a great deal, and they will be the last for this book."
"What We Do With The Dead" proved a memorable finale.
"Don Waters' characters, no matter how unusual, all convince me of their presence," Assistant Professor of English Eric Freeze said in his introduction of the author. Waters proceeded to prove his point, introducing his Wabash audience to Mel, the crematorium worker with "ginger-colored eyes" who has a clause in his will to provide for his calico cat; and Peter, the manager, "one of the unlucky ones," who has a deformed cranium and keeps his head tilted to the left.

"What We Do with the Dead" compares the work of Mel and Peter to that of Waters' central character, an artist whose girlfriend left him for his "lack of emotional depth" and who says near the beginning of the story, "I didn't believe in ghosts. I painted. Life was filled with too many choices."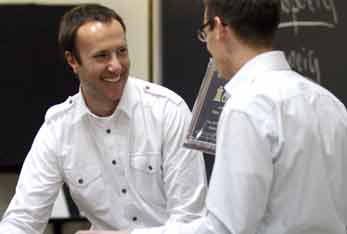 But when the artist takes a job delivering urns of cremated remains to their loved ones, he becomes the courier of the ashes of Mary Ellis, a young woman, a suicide, to her father in the middle of the Nevada desert. That encounter and his own anger and sorrow afterward move him to create an unexpected rite of remembrance. He drives away and off the highway to "a little piece of nowhere" and pours the ashes onto the ground, lighting a fire over them with his cigarette lighter, using the $90 he'd won from a slot machine as fuel.
"In the end the thing that remained was heat, not smoke," the artist said earlier of the cremation process. But in his ritual for Mary, heat, smoke, and "pieces of feathery ash vanish into a sky pulsing with fragments of white light."
In a review of Desert Gothic, author Amy Hempel wrote that "Don Waters does a brilliant job of showing the small heroic acts that reverberate in the lives of his characters and in the minds of a reader." Answering a student's question after the reading, Waters commented:"I tend to paint my characters not kindly, but I want to give them moments of grace."
He advised young writers in the audience to "find a character you want to be with, and put obstacles in his way."
"Trust where you come from," he added, noting that some of the students he has taught at New Mexico State University come from Roswell [often dubbed "the UFO Capital of the World"], and don't think to write about their own hometown. "They can't believe anyone would be interested—and they're from Roswell!
Waters' visit to Wabash included a lunch meeting earlier in the day with the College's aspiring writers and is the penultimate event of a visiting writers series this academic year that also included authors Benjamin Percy and Jonathan Lethem. GLCA New Writers Award in Poetry winner Aracelis Girmay will present a reading on Monday, March 22.

In photos: Waters answers students' questions following his reading; the author accepts a plaque commemorating his GLCA New Writer Award from Professor Eric Freeze.