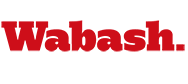 Wabash Scores Three All-Americans
by Howard W. Hewitt

March 13, 2010

GREENCASTLE – A senior got his long awaited due while a freshman and sophomore made it clear they're not satisfied. Nonetheless, Coach Clyde Morgan returned from the NCAA Division III Indoor Track and Field Championships with three All-Americans.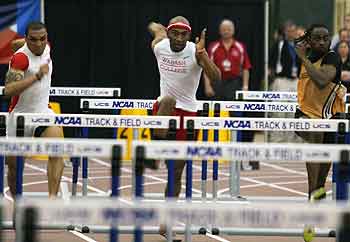 Senior hurdler Emmanuel Aouad placed third in the 55-meter hurdles while sophomore Kevin McCarthy and freshman Jake Waterman were sixth and seventh in the 800-meter run. All three advanced from Friday's semi-finals to run Saturday afternoon in the NCAA Championship held at DePauw University. All three are now All-Americans.
See a photo album from Saturday's meet
here
.
Aouad set the pace in the qualifying with a blistering start. He didn't get the quick jump Saturday but closed in the final 10 meters.
"I'm better at running hard between the hurdles," he explained. "Friday, I had a real good start but I wasn't going to count on that. I knew right when we went out, don't freak - I was like 'stick to the plans, stick to the plans. We had a blueprint and it worked out."
Coach Clyde Morgan actually had Aouad in sixth place coming off the last hurdle but a fundamental the Wabash coach stresses made a big difference. "He didn't panic and he finished strong. When he got to hurdle five, he was really in about sixth place and he ran to the line opposed to what a lot of guys do - leaning too early. We work on that a lot in practice - stand tall and run it through. That last 10 meters changed sixth to third."
Aouad was clearly ecstatic earning All-American honors after coming close before but never making the final race. "I couldn't imagine anything better," the always effusive Aouad said. "There has always been that elusive All-American status. It seems like I'd just miss making it to a meet. I'd get bumped off the list or something.
"It was just awesome to top it off like this and get Coach an All-American."
Standing off to the side while Aouad was talking to the press, Morgan was taken with his hurdler's last statement. "That hit me in my chest," Morgan said. "We have a great relationship. I plan on being at Wabash a long time and I thought 'wow he's my first." That made me feel great that he wanted to do that for me. But it's about him and he deserved it.
"When he came across that line and kind of smiled we connected, I had to go for a walk and get myself together. I was so excited for him."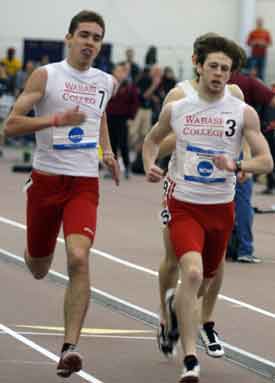 Morgan's job was a little tougher after Wabash's second showing. McCarthy and Waterman qualified second and fourth on Friday but couldn't match the field's fast start and finished sixth and seventh, respectively.
Both clearly showed the disappointment of not matching the previous day's performance, but Morgan was having none of that. "You reflect on this weekend and those guys made history," Morgan said, and then repeated what he told the two runners. " 'How can you leave this meet down?' I asked them, 'Are you kidding me?" Then they both started smiling."
McCarthy was close to All-American honors in the fall cross country season. "I had a taste of that in cross country, just a couple seconds off being an All-American," he said. "It's real cool to actually come back and be in the top six in Division III in the nation. It's quite an honor but we got a long way to go, I was only sixth."
Waterman and McCarthy explained the plan was to jump to a quick start and try to control the race, but both were near the back of the pack as the quick group set the pace. "You can't play catch up with a field of guys this good," Waterman said. "Not much I could do … mentally it puts you out of the race when you're behind a lot of guys like that."
Finally teammates and coaches and Aouad had the younger guys smiling. Aouad was overheard telling the guys it took him four years to become an All-American.
"They're both down, but I don't think they took in this weekend yet," Coach Morgan said. "A freshman and a sophomore – all Americans… two Wabash guys on podium; wow, I'm so excited for them."
There is little time to rest. The Wabash outdoor track season starts Saturday with the J. Owen Huntsman Relays.