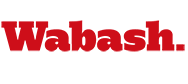 Track Trio Advances to National Finals
by Brent Harris

March 12, 2010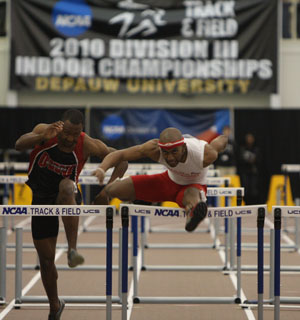 Senior Emmanuel Aouad set a new school record while posting the fastest preliminary time in the 55-meter hurdles, while freshman Jake Waterman and sophomore Kevin McCarthy each advanced in the 800-meter run at the 2010 NCAA Division III Indoor Track and Field Championship Meet.
Aouad (right) won his heat with a time of 7.48, the fastest among the 12 competitors in the event. His time was quicker than his qualifying time of 7.61.
Waterman set a new Wabash record in the 800-meter run, finishing with the third-best time in the trials of 1:52.59 after qualifying for the nationals with a time of 1:52.88. McCarthy earned a spot in Saturday's finals by finishing with the seventh-best time of 1:53.43, almost identical to his season-best qualifying time of 1:53.45.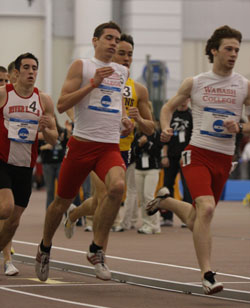 All three runners are guaranteed to earn All-America honors as top-eight finishers at nationals. The best finish in recent history by a Wabash runner at the indoor nationals came in 2007 with a second-place finish by Geoff Lambert '08 in the 800-meter run.
The 55-meter hurdle finals will take place Saturday at 2:25 p.m. The 800-meter run finals will start at 3:35 p.m. Saturday.
Photos - (top right) Emmanuel Aouad clears the final hurdle on the way to winning his heat of the 55-meter hurdles at the 2010 NCAA Division III Indoor National Championship Meet.
(Bottom left) Kevin McCarthy and Jake Waterman leading a pack in the preliminaries of the 800-meter run at the nationals. Both runners advanced to Saturday's finals.
Results
55-meter hurdles
800-meter run