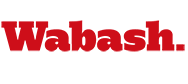 Track Trio Set for Indoor Nationals
March 10, 2010

Senior Emmanuel Aouad will be joined by sophomore Kevin McCarthy and freshman Jake Waterman at this weekend's NCAA Division III Men's Indoor Track and Field Championship Meet at DePauw University in Greencastle, Indiana.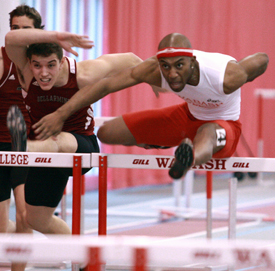 Head Track Coach Clyde Morgan says the opportunity facing the three Little Giants comes down to performing as they have all season.
"We've been telling those guys if you get there, just do what you did to get there," Morgan emphasized. "Do what got you there and you'll be fine. You see kids try to do too much and they crash and burn. You see coaches there and they're doing things they haven't done before with their kids."
Aouad, who participated in the 2009 Outdoor Nationals in the hurdles, will compete Friday night in the 55-meter hurdles. Aouad's qualifying time of 7.61 is the ninth-fastest in the field of 13 athletes.
Waterman and McCarthy both earned spots in the 800-meter run. Waterman is the only freshman qualifier in the event and is one of only 18 freshmen to make the national championship meet overall. His top time of 1:52.88 is the fourth-fastest in the field.
McCarthy qualified for his first track and field national championship meet after competing in the fall in the Division III Cross Country National Championship meet. McCarthy's time of 1:53.45 is the ninth-fastest in the field of 12 runners.
"We've never had a freshman qualify and qualify that high," Distance Coach Roger Busch said.
"Then yesterday Jake was named the Great Lakes Region Division III Indoor Track Athlete of the year. To get Wabash distance running and Wabash track and field on the national scene is awesome. To have two guys from same school in the same event is just incredible."
The honors didn't stop with Waterman. Morgan was named the Great Lakes Region Indoor Track Coach of the Year.
The preliminary round of the 2010 Championship Meet will be held Friday, March 12 with the finals to take place on Saturday, March 13.
Aouad runs in the first heat of the 55-meter hurdles at 4:35 p.m. on Friday. Waterman runs in the first heat of the 800 meters at 5:45 with McCarthy running in the heat that follows.