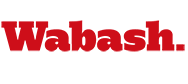 Runners Nationally Recognized Fourth Best in Classroom
by Howard W. Hewitt

March 10, 2010

Wabash cross country and track and field athletes know "student-athlete" can be defined and accomplished in a 40-hour work week.

The 2009 Wabash College cross country has been honored by the US Track & Field and Cross Country Coaches Association as one of the top academic programs in Division III.
The Little Giants were honored as one of 110 All-Academic Teams for the 2009 season. Wabash had a team GPA of 3.55, the fourth-highest in the nation among Division III programs. Rensselaer Polytechnic Institute's 3.68 GPA was the highest, followed by the 3.59 GPA for the Heidelberg cross country team and Kenyon's 3.58 GPA.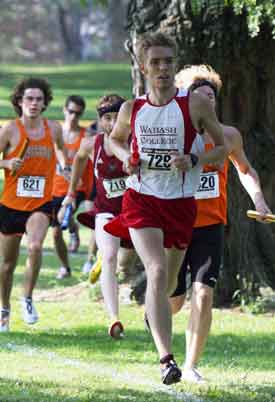 "We talk about a 40-hour work week at camp," said Cross Country Coach Roger Busch '96. "Forty hours really isn't that much. We subtract athletic time, which is about an hour-and-a-half a day; we subtract classroom time from that, so it's really 16-18 hours of study time they have to find throughout the week. Just getting that on a board for the guys to visualize and then realize, 'Gee it's really not that hard.'
"Guys realize when you break it down if they show up and participate they're going to be an above-average student."
They key for Busch and Track and Field Coach Clyde Morgan is communication.
"We tell them, 'These are our expectations, what are yours,'" Busch explained. "Until we get on same page that can be a challenge. We've been pretty blessed to say we have a group of about 20 guys each that we can sit down and talk with."
Morgan acts as assistant cross country coach while Busch serves as assistant track and distance running coach in the spring. Morgan knows there are many advantages to having really smart athletes.
"They take the advice from us," Morgan said. "A Wabash man is being able to stand up and say 'I need help' or 'This is too much, Coach, I need a break.' And they're starting to understand that. If you're struggling academically because you're tired say something."

That intellectual acumen not only pays off in communication but knowing and understanding the sport.

"It's a common misconception, from my perspective, that running is easy, but it's really not as easy as people would think," Busch said. "Becoming a student of the sport is huge. You can't sprint a 100-meter dash for five miles, so understanding and being realistic about your ability and goals is essential. And doing a little bit of research so we can all talk the same language is just as important. Guys have been really great about that."

A team must compete and post a team score at the NCAA Division III Cross Country Regionals and have a minimum team cumulative GPA of 3.10 to be named a USTFCCCA All-Academic Team.

The cross country team was eighth academically two years ago, 26th last year, and up to the fourth spot for this past fall season.




For more information see: