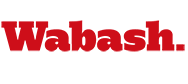 Students Study Weather, Visit TV Station
March 4, 2010

In order to get an up-close look at weather patterns, three Wabash physics majors traveled with Teacher Education Professor Amy Gillan to Indianapolis to visit the television studios of NBC affiliate, WTHR.
Funded with a Know Indiana grant, the students in the College's Earth/Space Science class met with WTHR meteorologist Jude Redfield.
The class is focused on a project-based learning opportunity in collaboration with Purdue climate scientist Dev Niyogi, and will revise current 4-H manuals dealing with weather and climate.
"Our challenge is to integrate ocean literacy concepts and issues of global warming into the outdated project manuals," Professor Gillan said. "The class wanted to interview a meteorologist to achieve a better understanding of the ocean-climate connection in Midwest states."
Junior Thomas Warn, sophomore Zach Rohrbach, and freshman Derek Fritz were invited by Redfield to tour the WTHR studio and watch the live noon broadcast. Redfield spent the afternoon explaining to the students the computer models he uses to create his forecasts.
"He detailed how he interprets different data sources," said Gillan, who is a Visiting Assistant Professor of Teacher Education and a Lilly Teaching Fellow at Wabash.
"He urged the class to keep in contact with him as the semester progresses if we need additional expertise."