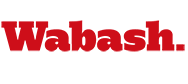 Petty and Players Receive NCAC Honors
by Brent Harris

March 3, 2010

Head Coach Mac Petty has been named the 2010 North Coast Athletic Conference Men's Basketball Coach of the Year. Three of Petty's players — seniors Aaron Brock and Chase Haltom, and junior Wes Smith — were named to the All-Conference Team.

Smith and Brock earned First Team All-NCAC Honors, while Haltom was a Second Team All-NCAC selection.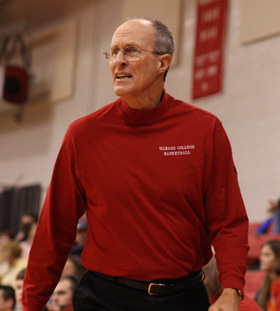 The NCAC Coach of the Year Award is the first for Petty since Wabash joined the league in 1999 and is the first such award in his 37-year coaching career. Petty completed his 34th season at Wabash, guiding his Little Giant team to an 18-8 overall record and a 12-4 mark in NCAC games. Last year's Wabash team went 14-13 overall and 7-9 in league play, finishing sixth in the NCAC standings. Wabash finished second in the final 2009-2010 NCAC standings for only the second time since joining the conference. The 12-4 NCAC record is the second-best for the Little Giants since going 13-3 in their opening season in the league during the 1999-2000 season.
Petty has produced a record 477-383 in 34 seasons at Wabash and has an overall coaching record of 525-411. He earned National Division III Coach of the Year Honors after his Wabash team won the 1982 NCAA DIII National Title and is a two-time National Association of Basketball Coaches District Coach of the Year Award recipient.
"We are all very proud of Mac and his team's accomplishments," Wabash College Director of Athletics Dr. Thomas Bambrey said. "The Coach of the Year Award is selected by his peers across the North Coast Athletic Conference. Their decision to honor Mac with this award shows the respect and appreciation he has earned from those coaches for the hard work both he and the Wabash players have put forth this year."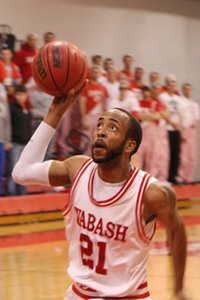 Smith earned First Team All-NCAC honors for the second consecutive season. He finished the season as the conference leader in scoring, averaging 18.2 points per contest. Smith was also second in steals (1.9 spg) and blocked shots (1.2 bpg), eighth in rebounding (6.7 rpg), and was seventh in field goal shooting percentage (169-of-339 for .499). He set the Wabash all-time steals record, finishing his third season with a total of 174. Smith also scored his 1,000th career point, moving to 11th place on the Wabash all-time scoring list with 1,233 points. He is 14th in all-time rebounds (507), becoming the tenth Little Giant player to score more than 1,000 points and grab more than 500 boards in a career. Smith is also seventh in career blocked shots with 79.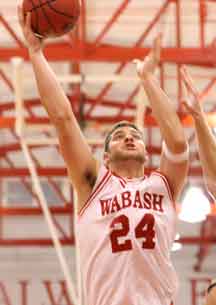 Brock received All-NCAC honors for the third time in his career, picking up First Team honors after back-to-back Honorable Mention selections each of the past two seasons. Returning for his senior season after missing the last seven games last year with a tricep tear that required off-season surgery, Brock led the NCAC in free throw shooting percentage by hitting 91-of-107 attempts for 85 percent. He was 11th in scoring (14.2 ppg) and seventh in rebounding (6.8 rpg) among NCAC players, as well. Brock joined Smith as a member of the 1,000-point club in the same game as was the ninth Wabash player to post 1,000 career points and 500 career rebounds. He finished his career ranked 13th in all-time scoring at Wabash with 1,205 points and 11th in rebounding with 548. Brock ranks fourth in career blocked shots with 84.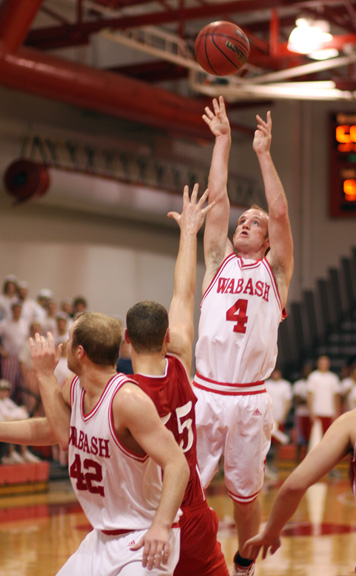 Haltom was named to the All-NCAC Second Team by the league coaches after receiving Honorable Mention honors last season. He was 17th in the league in scoring with an 11.3 points-per-game average. Haltom was among the top long-range shooters in the league, finishing second among NCAC players in three-point field goals per game with an average of 2.5. He reached the 1,000 career point mark, joining Smith and Brock to become the first trio of Wabash players to reach the milestone in the same season. Haltom's 1,105 career points place him 20th on the Little Giants' all-time scoring list. His 235 career three-pointers are second in Wabash history and make him only the second Little Giant player to hit more than 200 treys in a career.
Leave a comment below congratulating Coach Petty and the Wabash players on their 2009-2010 accomplishments.