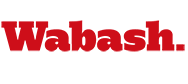 Students Get Up Close Look at Appeals Court
by Greg Slisz '10

February 26, 2010

Court was in session Thursday at Wabash College as the Indiana Court of Appeals held an oral argument in the Goodrich room of the Lilly Library. The hearing was part of Indiana's "Appeals on Wheels" program, which presents live appellate arguments at various locations around the state.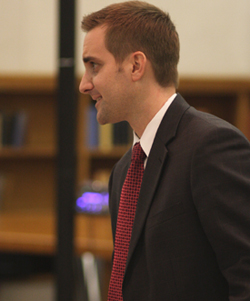 The case, Erwin vs. Roe, concerned negligence of a child who had suffered lead poisoning. Erwin, tenants of a rented home, alleged that the lead poisoning that their child suffered was due to unsafe lead paint present in the house. Roe, the property's landlord, had won the case at a lower level court and was the case's appellee. The case centered on whether or not Roe had prior knowledge of whether or not the property contained lead paint, and if this knowledge was even necessary to be guilty of "negligence per se," which is negligence that violates a safety regulation. In addition to debating the interpretation of the statute, the two parties also debated about the length of time granted for Erwin's discovery of evidence.
While the judges reached no verdict, the case was beneficial to many in the Wabash community for reasons other than the outcome. Rhetoric Professor Todd McDorman, who has helped bring the Appeals on Wheels program to Wabash for the past 10 years, said the hearings allow students the opportunity to see how real trial law looks.
"We have been doing it every year for pretty much the past decade," McDorman said. "We've heard a variety of court cases, some are civil, some are criminal cases, and I think it gives our students a good opportunity to see the law in action. A number of times we've had Wabash graduates come back and argue the case, which I think the students always appreciate, because it helps them self-actualize where they can be in that position in years to come."
Brady Rife, a 2000 Wabash graduate, litigated for the appellee. Barnes said the volume of work and the critical reading required by his double major in English and Classics were instrumental in his success as a lawyer.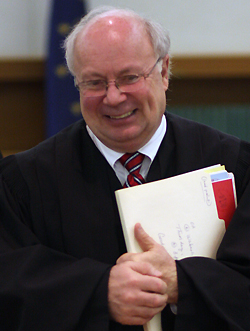 Many in attendance were members of the legal rhetoric class, which has incorporated the hearings into its syllabi for the past several years. Students in the class received the case briefs beforehand and also debated the argument in class.
Senior Anthony Tellez, a class member, said the advocates got into much greater detail and involved more outside sources than just the case briefings.
Tellez also said that it was a change seeing a real court case as opposed to those on television. "Sitting in on a case allowed me to see that it's not like you see on TV," he said. "It's much more orderly, not so dramatic. You actually have to think about the case as you're sitting there; it's not just all emotional drama as you see on television."
Professor McDorman, who, along with Professor Timmerman, has helped organize the event, echoed Tellez's sentiment..
"There's a range of reactions," McDorman said. "Sometimes the students are really impressed by the advocates, and sometimes it sort of shatters the illusion that we have, because they're used to watching, say, Law and Order, or they see a movie that has a flashy trial in it, and they get here and they realize that while these advocates have the experience and the knowledge of the law that perhaps the students lack, they're just regular people, too."
For some students, such as Alex Avtgis '11, the experience strengthened his desire for a career in law. "Initially I didn't know what to expect, but as soon as they started the arguments and I got to see the layout of what they were saying and how into it they were, their clarity of argument, and their ability to convey their ideas. It reaffirmed that this is why I want to go to law school."
In photos: Top right, Rife '00. Lower left, Honorable James Kirsch. Kirsch's son Adam is a 2007 Wabash graduate.