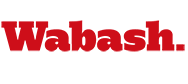 Seniors Lead Wabash To Second
by Brent Harris

February 20, 2010

Seniors Aaron Brock, Chase Haltom, and Rich Kavalauskas provided plenty of scoring Saturday afternoon to help Wabash close out the regular season with a 75-51 home win over Kenyon College. The victory wrapped up a second-place finish in the North Coast Athletic Conference for the Little Giants, the highest finish by a Wabash team since the school's first year in the league.

View photos from the Little Giants' victory here.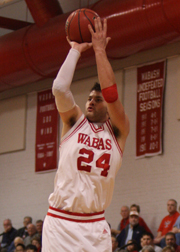 Brock
(right)
opened the game with three consecutive three-points to lift Wabash to a 9-7 lead over the visiting Lords. Haltom added a trey of his own, followed by another long-range shot from Brock to push the Little Giants in front 15-7. The duo added another five points to push the advantage to 12 points. Wabash would eventually move in front 35-19 with 2:34 left to play in the first half. The Little Giants scored the final eight points of the half, capping the period with a breakaway slam dunk by Brock just ahead of the buzzer after Haltom's steal ended up in the hands of Kavalauskas for the outlet assist.
Kavalauskas made the most of his first start of the season, hitting both shot attempts in addition to handing out three assists to go with two rebounds, a block, and a steal in 16 minutes of action.
"We wanted to keep the ball moving against Kenyon's zone," Kavalauskas said. "We made an adjustment at halftime, getting the ball into the high post. That allowed us to take advantage of what Kenyon was presenting us."
The Little Giants took advantage repeatedly, recording a season-high 22 assists --- tying for the third-most in a single game by a Wabash team. Wabash also took good care of the basketball throughout the contest, playing the entire first half without a turnover and finishing the game with a total of six.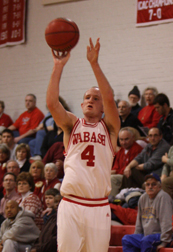 "Getting off to a good start was important," Haltom
(left)
said. "We knew Kenyon would play a zone, so having Brock come out and hit those first three shots really helped open up the rest of our offense. We knew all along we needed to be playing our best basketball at the end of the year. We had a chance to beat Wooster at home and came up short, then picked up two huge road wins at Ohio Wesleyan and Wittenberg. Then we showed we could follow up those big wins with another today against Kenyon to grab that second seed in the tournament. Now we have to be ready to do it all over again Tuesday against Denison."
"I think we were more focused today than we have been in previous games coming out of the locker room," Brock added. "We came out and hit a lot of early shots and carried that throughout the entire game. It's been great playing with Rich (below right) and Chase the past four seasons. Even more importantly, we're friends off the court. We enjoy being around one another. It's been special to go through this run with these guys. Hopefully we'll have a great ending to our careers this year."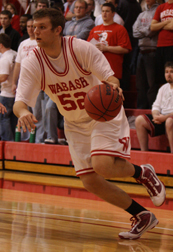 Brock led Wabash in scoring with 21 points, shooting 8-of-12 from the field and 5-of-9 from beyond the three-point arc. He also grabbed seven boards and had a blocked shot. Wes Smith was content early to draw the Kenyon defense and find the open Wabash player, picking up three of his four assists on Brock's first three treys. Smith went on to score 12 points with six rebounds, a block, and a steal in 28 minutes on the floor.

Haltom finished with nine points. Andrew Gilman came off the bench to tally eight points, two assists, and two steals.

Kenyon was led by Josh Bloom's 12 points off the bench. The Lords (6-18, 3-13) will travel to top-seeded Wooster for the opening round of the NCAC Men's Basketball Tournament Tuesday evening as the number eight seed.

Wabash ends the regular season with a 17-7 record and a 12-4 mark in NCAC play. The last time a Little Giant team finished second in the NCAC regular season standings was at the end of the 1999-2000 campaign with a 13-3 league record. Wabash will play host to seventh-seeded Denison (7-18, 7-9 NCAC) at 7:30 p.m. on Tuesday evening to open conference tournament play.




Results: Wabash 75, Kenyon 51 Game Stats