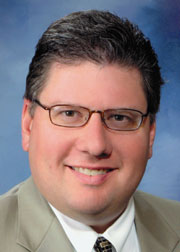 Greg grew up on the northeast side of Indianapolis. He graduated from Wabash in 1983 and received his law degree from the University of Dayton School of Law. He served the United States Air Force at Wright-Patterson Air Force Base JAG office as a legal intern during law school.
Greg has practiced law in West Central Indiana for the past 23 years, specializing in business law, collections, real estate, and tax matters. Greg has served as Judge of the Crawfordsville City Court, Deputy Prosecuting Attorney for Montgomery County, and Judge Pro Tem for all three Montgomery County Courts.
Greg is active in his community. He has served as an officer and director of the Montgomery County Visitors Bureau; Montgomery County Youth Camps; Crawfordsville Rotary Club; Crawfordsville Main Street Program; and Montgomery County Shrine Club. He was recently elected to the Board of Directors of Murat Shrine Temple Association, Inc. in Indianapolis.
Greg has been a Class Agent for over 25 years. He served on the Board of Directors of the National Association of Wabash Men. He was President of the Wabash College Phi Gamma Delta Association, Inc. during the construction of the new chapter house for Psi Chapter of Phi Gamma Delta.
Greg and Laura have been married for 25 years. They have one son, Nick. Greg's parents are Dr. Hoyt ('59) & Kathy Miller.