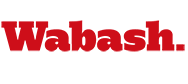 WAR Council Leaders Speak at Orlando Conference
by Kenny Farris '12

February 4, 2010

Five Wabash students and one staff member traveled to Orlando Jan. 29-30 ready to share their peer education program with 33 colleges and universities from across the country. Sparked by new ideas about substance abuse education, the Wabash WAR Council returned from the APPLE Conference in Orlando, Florida, ready to act again at home.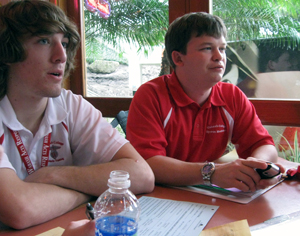 The Wabash team, along with two other collegiate teams, presented what APPLE described as a "success report" of their first semester activities to a breakout session at the conference.
"We sparked some laughs," said Jacob Surface '11 at Tuesday's WAR Council meeting, "but we also got a lot of positive feedback from groups commenting on our work."
The University of Virginia sponsored the conference at the Hyatt Grand Cypress Resort in Orlando with funding from an NCAA grant. The conference worked to promote "understanding, evaluating, and enhancing of (a school's) environments to prevent alcohol, tobacco, and other drug use/abuse".
The conference featured Wabash's "success story" in the session "Student-Athletes as Peer Educators — The Strongest Link". Surface, Patrick Griffith '10, Billy Rosson '13, and athletic trainer Mark Colston shared the WAR Council's work from the previous semester. "Many people thought the Gatorade six-pack giveaway was a great idea," said Rosson.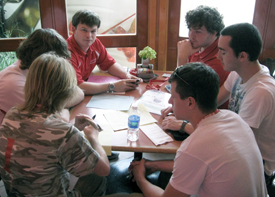 The makeup of the Wabash team, which included NCAA athletes, athletic trainers, and non-NCAA athletes, differed strongly from the majority of other teams. Coinciding with the goal of the conference to "promote student-athlete health and wellness", most college and universities sent Student Athletic Advisory Committee members, athletic staff, and wellness counselors to improve policies, education, and drug testing in their athletic departments.
"We see ourselves as an example of responsible use of alcohol and other drugs for the whole campus, not just the athletic department," said Rosson.
The conference introduced the participants to a group of nationally influential speakers meant to educate attendees.
"Sports law attorney Janet Judge explained what can happen with pictures and other information on the Internet," said Rosson. "I didn't know many companies can simply Google your name and find all of the pictures on people have posted of you."
Other speakers included Virginia Commonwealth University's Linda Hancock, University of Virginia Athletic Director Craig Littleback, and former University of Nebraska Wide Receiver Aaron Davis.
"Linda Hancock gave a speech describing the social norms of alcohol use by using virtual clickers to gain instant, anonymous data," said Rosson. He found her data and other presentations useful in helping to realize how "a simple action can completely change the outcome of an individual dangerous situation or a large-scale problem."
The conference not only allowed students to share different ideas of successes and failures in substance abuse programs but also to develop new action plans. The Wabash group met four times during the three-day conference to develop a new action plan focusing on substance abuse education. "(The team meetings) taught me ways I didn't know previously of implementing (WAR Council) plans for future activities," Rosson said.