Five students and one staff member representing Wabash's W.A.R. Council will spend the weekend in Orlando, Florida. Not for vacation, but for education.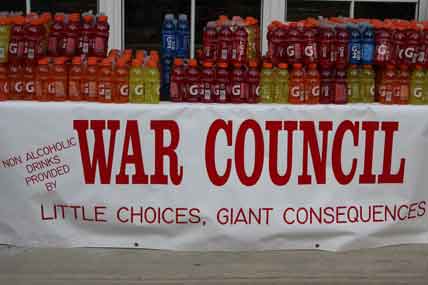 The Wabash W.A.R. (Wabash Acts Responsibly) Council was chosen among dozens of other group applicants to present at one of three breakout sessions at the
APPLE Conference
. The annual conference is the brain trust of the Center for Alcohol and Substance Education at the University of Virginia. Its symposiums focus on substance abuse prevention and supports healthy lifestyles training for student-athletes and athletic administrators.
Organizations at the conference help empower each other by sharing helpful advice they've learned through program development. Wabash will be presenting on the topic of "Athletes as Peer Mentors," since the W.A.R. Council is unique in that it's student-run, rather than staff led.
Patrick Griffith '10, Jacob Surface '11, Bobby Wade '11, Kenny Farris '12, Billy Rosson '13, and Head Athletic Trainer Mark Colston, will represent the College at the Conference.
Griffith sees the W.A.R. Council's selection as affirmation the W.A.R. Council's accomplishments on campus.
"The successes of the W.A.R. Council through its campus-wide events have proven that our group can be held as a prime example, nationwide, on how to effectively educate our peers — primarily how to be responsible with substances, especially alcohol," Griffith said. "While our group is not entirely composed of athletes, a very large majority of our members are varsity letter winners."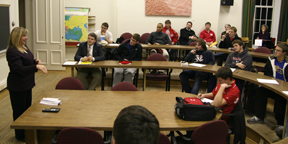 The W.A.R. Council sponsored last year's successful "Six Pack Talks" — educational lectures over six weeks prior to spring break, which covered everything from legal implications of alcohol abuse to health concerns. To kick off the 2009-10 school year, W.A.R. Council members passed out six packs to entering freshmen — six packs of Gatorade.
"The W.A.R. Council has been able to effectively monitor the effects of our events through the various surveys that have been distributed, and working with other groups on campus composed of both faculty and students, to further promote our mission statement and statement of purpose," added Griffith.
Dean of Students Michael Raters, who attended the APPLE Conference in 2005, believes the W.A.R. Council's selection is affirmation of the College's student-led approach.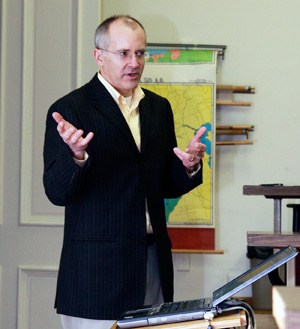 "I see the invitation to present at the conference as recognition of the hard work, creative programming, and campus-wide collaboration our men have developed," he said. "Almost all of the other institutions with an NCAA grant of this type have a staff of professionals whose primary responsibility is to implement it.
"In our student-centered approach to leadership, our men have raised the profile and significance of the W.A.R. Council on campus with some guidance from Mark Colston, Nancy Doemel, and me — but primarily by their own initiative and efforts. I'm pleased and proud the NCAA chose to honor our students with this opportunity."
The mission of the Wabash W.A.R. Council is to create a safe and healthy environment by encouraging legal and responsible behavior regarding drinking and other drug use.
One of the W.A.R. Council's key initiatives has been "LITTLE Choices have GIANT Consequences," which strives to educate and foster responsible and healthy choices among the entire student body with regard to alcohol. The group's goal is to enable students to make informed choices that are appropriate, legal, and safe, while empowering students who do not use alcohol, as well as responsible users, to dominate the attitudes and behaviors creating the social norms at Wabash College.
According to the APPLE Conference website, participants will learn to:
• Improve relationships between administrators and student athletes
• Increase their understanding of the APPLE model
• Increase their ability to impact substance abuse problems
• Increase student ability to confront teammates
• Increase student leadership skills
• Increase knowledge of alcohol, tobacco and other drug (ATOD) issues for student athletes
• Increase knowledge of effective ATOD prevention programs
• Create a clearly defined, measurable action plan