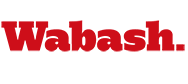 High School Coaches To Honor Rob Johnson
by Matt Wilson
The Journal Review

January 26, 2010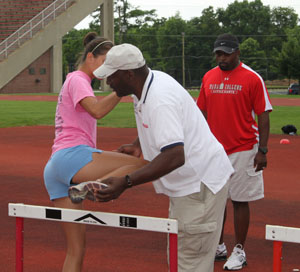 Rob Johnson spent 37 years as Wabash's track and field and cross country coach, but on Jan. 29 he will be honored for contributions outside of the college ranks. Johnson will be inducted into the Indiana Association of High School Track and Cross Country Coaches Hall of Fame Jan. 29 at the Sheraton at Keystone, in Indianapolis.
The banquet runs from 7-9:45 p.m. and will be part of the IATCCC annual clinic Jan. 28-30.
"This is quite an honor," Johnson said. "They kept telling me to bring my resume in and show them what all of my accomplishments were, but I never did, they must have just seen my information on my coaches bio on the Web site.
"There are a lot of prominent people connected with the organization that I watched growing up as athletes."
This marks the second time Johnson will be inducted to a Hall of Fame. He also was named to the Wabash College Athletic Hall of Fame in 1994.
The morning of his Jan. 29 induction, Johnson will speak at the clinic about the 4 x 100-meter relay.
When Johnson first came to Crawfordsville in 1970, he started working with Bloomington South coach Marshall Goss. He spent time with Goss looking over high school clippings and rankings and also putting a newsletter together with cross country results. Johnson helped keep the newsletter going for several years before high school coaches took over.
Johnson has spoken at high school clinics numerous times.
Other coaches being inducted on Jan. 29 include North Central's Bruce Blomberg and James Johnson, Sr. of Hobart. Female athletes being inducted are Jessica Gall, West Lafayette; Andrea Kremer, Bishop Chatard; Christina Poulson, Delta; and Morgan Uceny, Plymouth. Male athletes being inducted include Leroy Dixon, South Bend LaSalle; Mark Jelks, Gary West; David Neville, Merriville; and Don Young, Gary Roosevelt.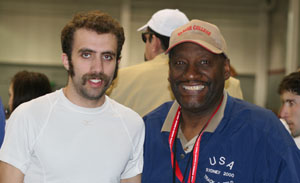 Johnson was nominated for the honor by North Montgomery track and field coach Ed Stuffle, who also serves as the IATCCC Academic All-State Track and Field Chairman.
"Once is a while, they will honor people from outside of the high school association that they still feel have contributed to high school track and cross country," Johnson said. "I want to thank coach Stuffle and the other coaches from around the area, because this really is a nice honor."
Johnson invited former Southmont coach Ron Hess and his wife to be his guests at the banquet. He also invited Crawfordsville track and field coach Brian Miller, who during his senior year at Southmont won the state championship in the 440-meter dash in 1979. Miller won't be able to attend because he's taking his nephew on a college visit.
"I invited coach Hess because I really appreciated the fact that he would bring in some inner-city schools to his meets," Johnson said. "He also did a good job of developing state-ranked talent in both the distance and sprint events."
Johnson's immediate family also will be at the banquet.
Johnson's coaching success went beyond just helping at the high school level. During Johnson's time at Wabash, was named the NCAA Division III Cross Country Coach of the Year in 1995. Johnson was one of five assistant coaches for the
United States Track & Field team at the 2000 Summer Olympic Games in Sydney, Australia. He was the first Division III coach to make that claim.
In 1981, Johnson served as an assistant coach at the National Sports Festival in New York, and one year later he coached sprints, relays and hurdles in Ethiopia as part of the Olympic Solidarity Project. He also was the head track coach for the North Team at the 1983 Olympics Sports Festival in Colorado Springs and was an assistant for the US Junior National Team, which set two world records. He also was the sprint and relay coach for the US Track Team at the 1983 World University Games.
Johnson came to Wabash the same year Stuffle came to North Montgomery. Johnson gave Stuffle the opportunity to start officiating at the NCAA level in the mid-1970s.
"We crossed paths on many issues over the years about a multitude of ideas concerning events and competition," Stuffle said. "He has been very successful in the training of athletes in many different events and has had quality team representation at the national level. His success has been rewarded a number of times with him being selected to coach and/or train world class elite athletes at many track and field venues across the United States.
"His selection as one of the U.S.A. coaches at the Olympics was his ultimate reward for the study he has done in the sport. His clinic presentations are super, because he talks to the coaches instead of at the coaches, as many collegiate coaches will do. He will help any new or veteran coach, at any time, because he truly cares about the success of the sport."
Photos - (top right) Johnson working with high school students at the Wabash Summer Hurdle Clinic in 2009.
(Bottom left) Johnson (right) with All-American runner Geoff Lambert after Lambert finished second in the 800-meter run at the 2007 NCAA Division III Indoor Nationals.