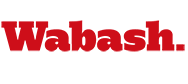 Brock, Smith Close on 1,000 Points
by Brent Harris

January 12, 2010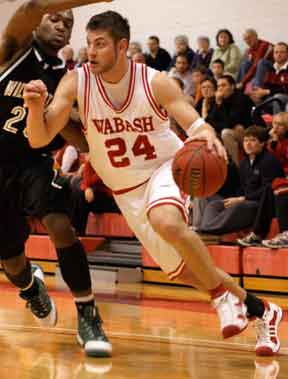 The attention of Indiana sports fans has turned to Saturday night's NFL playoff game between the Indianapolis Colts and the Baltimore Ravens. However, Wednesday night two Wabash College basketball players could join one of the Colts assistant coaches as members of a very special club.
Wabash senior forward Aaron Brock (right) and junior forward Wes Smith have opportunities to score their 1,000th career points in Wednesday's North Coast Athletic Conference men's basketball game at Earlham College. Brock enters the game with 992 career points, while Smith is one behind with 991. If the two players stay at their season averages, it should be no problem to reach 1,000 — Smith is the second-leading scorer in the league with a 19.3 points-per-game average, while Brock is scoring 13 points a contest.
Wabash plays at Earlham in Richmond, Indiana, at 7:30 p.m. Wednesday.
Twenty-two Little Giants have scored 1,000 or more points in their careers, including Indianapolis Colts offensive quality control and assistant offensive line coach Pete Metzelaars. The 16-year NFL veteran, who played in four Super Bowls for the Buffalo Bills, was a star in both football and basketball at Wabash. He scored 1,976 points — second on the Wabash all-time scoring list to Josh Estelle's 2,065 points — and holds the school's all-time rebounding record with a total of 1,176. Metzelaars was named the Division III Men's Basketball Player of the Year after leading the Little Giants to an NCAA National Championship in 1982. Nearly 30 years after he finished his college playing career, he is still third in the Division III record book for field goal shooting percentage, connecting on 271 of 360 shots as a senior for 75.3 percent — the fifth-best single season average for any NCAA level. Metzelaars' career shooting percentage of 72.4 percent (784-of-1,083) is still third-best by any NCAA player.
Brock's trip to 1,000 points hit a snag last year when he missed the final five games with injuries to both elbows that required off-season surgery. Returning for his final season at Wabash, the Bremen, Indiana, product has returned to the form that earned him back-to-back Honorable Mention All-NCAC honors in 2008 and 2009. Brock scored 42 points in two games last week for Wabash, tallying 22 in a win over Hiram Friday night and 20 in a victory against Allegheny Saturday afternoon. He can also become the ninth Little Giant player to score more than 1,000 points and record more than 500 rebounds if he can grab 50 boards over the remaining 12 regular season games. He heads into Wednesday night's game at Earlham with 450 career rebounds, placing him 14th on Wabash all-time list.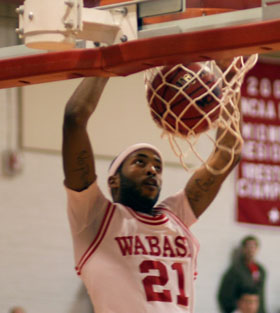 Smith
(left)
is no stranger to success on the basketball court. He played on the 2005-06 Lawrence North High School basketball team; finishing the season with a perfect 29-0 record to win the Indiana High School Athletic Association Class 4A state title while earning the number-one ranking in the nation among high school basketball programs by
USA Today
. Since coming to Wabash, Smith was named to the 2009 All-NCAC First Team after averaging 16.8 points and 6.1 rebounds per contest. Last week against Hiram, he became the Little Giants' all-time leader in steals with 146 in 67 games. Smith currently ranks eighth in career blocked shots (61) and 18
th
in career rebounds (418). He set the Wabash single-season steals record as a freshman with a 68 steals.
Mac Petty, the 1982 NABC National Coach of the Year now in his 34th season at Wabash, has been the head coach of 14 of the 22 1,000-point club members. A two-year varsity basketball letterwinner at the University of Tennessee, Petty understands what this achievement means for Brock and Smith.
"To see young men reach that milestone is outstanding," Petty said. "I think it puts a period on their career when they look back at it. It solidifies what they've done, what they've accomplished, and how they've helped the program.
"It makes it great as a team to have guys like Aaron and Wes on the same team. It really helps because we don't have just one guy that people can key on we have at least two guys who can exploded offensively and provide those points."
Rarely have two Wabash members of the 1,000-point club played on the same team. Only two times have two players reached 1,000 career points in the same season. The first came in 1980-81 with Metzelaars and Steve Kobold. Chris Whitfield and Steve Cox each scored their 1,000th career point during the 1987-1988 season. Never in the 114-year history of the Wabash program have two players scored their 1,000th point in the same game.
After graduating from Wabash, Metzelaars was selected by the Seattle Seahawks in the third round of the NFL Draft before being traded to Buffalo in 1985. After playing 10 seasons for the Bills, he finished his career by playing for Carolina and Detroit before retiring after the 1997 season.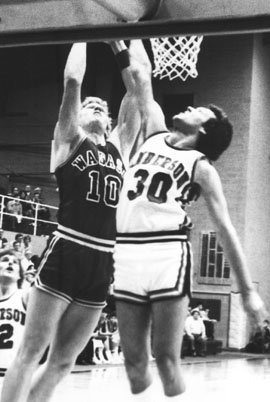 Metzelaars
(left)
is in his sixth season as an assistant coach for the Colts and was part of the coaching staff that guided Indianapolis to the NFL title in Super Bowl XLI. He was recently named to the Buffalo Bills' 50
th
Anniversary Team. Metzelaars was also named to the National Association of Basketball Coaches' 2007 Silver Anniversary All-America Team, joining Dan Caliandrillo (Seton Hall), Eric "Sleepy" Floyd (Georgetown), Jeff Jones (Virginia), and Ricky Pierce (Rice).
Brock and Smith could be joined by senior teammate Chase Haltom later this year. Haltom has scored 950 points to this point in his career and is averaging 11.6 points per game this season. Wabash has never had three 1,000-point scorers on the same team.
Wabash All-Time Leading Scorers
| | | |
| --- | --- | --- |
| | Player (Years) | Total Points |
| 1. | Josh Estelle (1996-2000) | 2,065 |
| 2. | Pete Metzelaars (1978-1982) | 1,976 |
| 3. | Jack Roudebush (1970-1974) | 1,943 |
| 4. | Chad Tabor (1995-1999) | 1,888 |
| 5. | Mike Crnkovich (1989-1993) | 1,627 |
| 6. | Joe DesJean (1999-2003) | 1,506 |
| 7. | Chris Whitfield (1984-1988) | 1,473 |
| 8. | Tom Bennett (1956-1960) | 1,439 |
| 9. | Charlie Bowerman (1958-1961) | 1,408 |
| 10. | Andrew Zimmer (2004-2008) | 1,374 |
| 11. | Cliff Bell (1972-1976) | 1,223 |
| 12. | Dave Moore (1966-1969) | 1,159 |
| 13. | Brian Latham (1996-2000) | 1,155 |
| 14. | Merlin Nice (1980-1984) | 1,131 |
| 15. | Brady Claxton (1999-2003) | 1,130 |
| 16. | Ben Fellerhoff (1954-1958) | 1,123 |
| 17. | Steve Cox (1984-1988) | 1,114 |
| 18. | Shawn Tabor (1993-1996) | 1,111 |
| 19. | Terry Smith (1965-1968) | 1,057 |
| 20. | Kevin Chavous (1974-1978) | 1,026 |
| 21. | Steve Kobold (1977-1981) | 1,001 |
| | Rex McCoy (1951-1955) | 1,001 |
| 23. | Aaron Brock (2006-Present) | 992 |
| 24. | Wes Smith (2007-Present) | 991 |