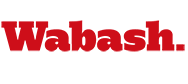 Wabash Christmas Festival Tonight
by Howard W. Hewitt

December 4, 2009

Wabash has many of its own traditions and even a few borrowed ones. The 42nd Christmas Festival of Music and Readings is one of the College's most beloved annual rites.

The Festival is open to the entire Crawfordsville community. It will be held at 8 p.m., tonight,, Dec. 9, in the Wabash College Chapel.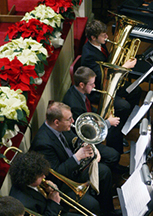 The program combines scripture and music. "Among other things it has historical antecedents," said Professor of Religion David Blix, who is co-chairing this year's program with Glee Club Director Richard Bowen.
"It's modeled after a Cambridge service and that goes back to the early part of the 20th century. It brings together music and scripture in a kind of interlocking them in all sorts of interesting ways. It's a concert, worship service, and it brings together all different parts of the community."
Bowen also appreciates the historical nature of the Festival and how it gives everyone an opportunity to reflect.
"It strikes me, as well - here at the end of the first decade of the 21st century, that - on one hand, the "Christmas Season" seems to exert an ever-growing influence on American culture each year: the decorations, songs, and gifts appear earlier and earlier each fall," he said. "On the other hand, our individual and personal participation in the "Season" is increasingly circumscribed: we are so busy with so many other pressing pursuits that we find ourselves on the sidelines as passive observers. Our Festival provides us with an opportunity to actively celebrate the season in a "live" presentation that includes readers, musical ensembles, and an audience that raises its collective voice in the carols that we sing.
"One might observe that this gathering is a relic of times gone by. Even if this is so, it is a relic worth preserving."
Wabash's service was started in 1969 by the late Eric Dean, the LaFollette Distinguished Professor of Humanities. The service is modeled after King's College, Cambridge, "A Festival of Nine Lessons and Carols." The Cambridge service was begun on Christmas Eve in 1918. It was first broadcast in 1928 and is now broadcast around the world. The 2008 Festival was released on CD.
Wabash's program will include music from its Brass, String, and Woodwind Ensembles. It is one of the Glee Club's biggest concerts of the year.
"This program is another example of the important role that the Glee Club plays in the life of the College, as we continue to connect our past with our present," Bowen said. "More importantly, it is a time when we temporarily escape the end-of semester pressures of classes, papers, and exams to come together for an uplifting evening in celebration of the season of Christmas."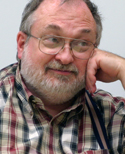 Wamidan, the College's World Music Performance group, will also participate along with other soloists.
Member of the Wabash faculty, staff, and students will read scripture between the musical performances.
"To me it's this wonderful continuity of tradition," Blix said. "I have the personal memories back to at least 1988 and the memories that it started even back later than that. I love Christmas and I love Christmas music. I love hearing these passages. It's just a lot of fun."
Bowen shared a similar reflection. "It is one of those events that (like the Ringing In ceremony, for example) occurs just once per year," Bowen said. "In the case of the Christmas Festival, we have printed programs from every year, which allows us to see how the program has evolved over 40-plus years — and to take note of the individuals who have participated — students, faculty, staff, and community."
The program is free and open to the public.