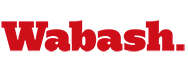 Chamber Orchestra Concert Sunday Evening
by Karen Handley

December 1, 2009

Get directions to Wabash College Fine Arts Center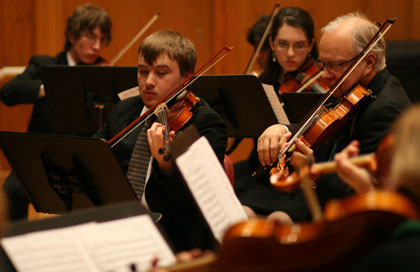 The Wabash College Chamber Orchestra will present a concert at 7 p.m., Sunday, December 6, in Salter Hall in the Fine Arts Center.
The program will consist of Corelli's Concerto Grosso in F; Mozart's Serenade for Winds in c minor; and Beethoven's Symphony No. 5 in c minor, op. 67.
Under the direction of Alfred Abel, the orchestra has performed works by a wide variety of composers from the 16th to the 20th century including not only great masters like Bach, Bartok, Stravinsky, Beethoven, Brahms, Ravel, Vivaldi, Haydn, Handel, and Mozart but also composers who are less frequently performed by today's orchestras, including very early composers such as Rameau, Mouret, Purcell, Byrd, and Jenkins.
In Concerto Grosso in F, composed for string orchestra, the contrasting lines and interplay of a smaller and a larger group of instruments are featured. The movements of the work, named for specific dances of the time, vary in tempo and melodic character.
The three serenades for wind instruments that Mozart composed in 1781 and 1782 are more highly developed than the wind music generally heard as casual entertainment or for civic ceremonies. Little is known about K.388 other than its date of composition (1782 - written on the surviving manuscript) and that Mozart later reworked the musical material as the String Quintet in c minor. The piece is scored for two oboes, two clarinets, two bassoons, and two French horns.
The orchestra will conclude the program with Beethoven's Symphony No. 5. Written in 1808, a few years after Beethoven realized that his hearing loss would worsen and was incurable, this symphony has the heroic character noted in many works composed during his "middle" period.
Wabash students participating in the concert are: Keaton Becher '13, Bryan Burzon '11, Kelvin Burzon '12, Adam Cooper '12, Joshua Crayne '12, Will Drews '13, Henry Giesel '13, Andrew Kunze '12, Garrett Redweik '12, Tony Scheetz '10, Zachary Thompson '13, Vincent Tran '10, and Jonathan Wong '13.
Wabash faculty/staff members are: Larry Bennett, Eileen Bowen, Vanessa Rogers, and Cheryl Everett. Community members include: Colette, Benjamin, and Clara Abel, Denis Beach, Janet Campbell, Cara Cox, Patty French, Rixa Freeze, Rosemarie Hutcheson, Gary Ketchum, Carolyn Perkins, Clayton Peters, Anne Sexton, Christina Sharp, Jim Swift, Alexandra Thomas, Bryan Thompson, Deborah Woods, and Barb Wilson.
The concert is free and open to the public.