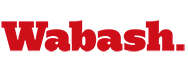 Playoffs: Wabash Travels to IL Wesleyan
by Jim Amidon

November 15, 2009

The Wabash College football team has advanced to the NCAA Division III playoffs for the third straight year, and will open the tournament at Illinois Wesleyan on Saturday, November 21. Kickoff is set for 12:00 noon at

Wilder Field in Bloomington, Illinois

.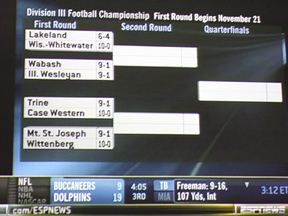 Tickets will be available at the gate. The cost is $8 for adults, $4 for students and seniors, with children under the age of two years admitted free of charge. Check out the
entire playoff bracket
.
"It's always tough to play a good team on the road, but when you don't win your conference, you just have to cross your fingers and hope the committee thinks enough of you to select you as one of the teams to play," said Wabash Coach Erik Raeburn. "They can pair us up with anyone as far as I'm concerned. We're happy to be in the tournament and will do our best to win on Saturday."
"They're in a great conference, so to win that conference you know they have to be a good football team," said Coach Raeburn. "They are very well coached and their staff has been together forever. That's enabled them to have a ton of success and a very stable program."
Wabash has won five of six all-time meetings with Illinois Wesleyan, though the teams last met in 1983. The Titans are in the playoffs for the first time since 1996, while Wabash is making its sixth trip to the post-season.
Scouting the Titans
Illinois Wesleyan fields by far the most balanced offensive attack the Little Giants will have played this year.
The Titans average 424 yards per game
, including 174 yards per game on the ground.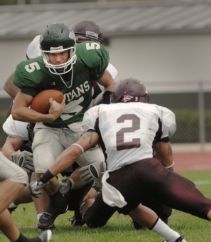 Quarterback Brien Rooney, a 6-0, 190-pound junior, is a dual threat on offense. He has rushed for 482 yards and three scores, while hitting 62 percent of his passes for 977 yards and 10 touchdowns.
Rooney (right) replaced senior signal caller Kraig Ladd, who was injured in the team's 20-17 win over rival Wheaton on November 7. Ladd had thrown for 1,427 yars and 16 touchdowns. It is not known if Ladd will be available for the playoffs.
Eli Williams, a 5-9, 175-pound junior, is the workhorse in the backfield with 755 yards rushing and seven touchdowns.
Five Titan players have caught at least 20 passes, but Rooney's top two targets are seniors Chris Messina and Jack Scalcucci. Messina, a 6-3, 200-pounder, has caught 47 passes for 576 yards and nine touchdowns, while Scalcucci, a 6-2, 190-pounder, has 44 catches for 637 yards and nine scores.
Like Wabash, the Titans boast a big, veteran offensive line. Anchored by seniors Keely Flood (6-1, 265), Travis Boothe (6-5, 285), and Keenan Clifford (6-2, 275), the offensive line has yielded just 13 sacks in 317 passing attempts.
Defensively, Illinois Wesleyan is a stout bunch. The Titans have given up just 11.9 points per-game, and held five of their opponents to seven or fewer points. They have forced 22 turnovers, including 14 interceptions.
A big, quick defensive line is led by seniors Andrew Boyd (6-5, 275) and Mike Ammirati (6-3, 245), though junior end Ryan Jenkins (6-2, 205) leads the down linemen with 4.5 sacks and seven tackles for loss.
The strength of the unit, though, is at linebacker. Senior linebacker Nick Nikolich 6-2, 205) leads the team with 67 tackles, 12 tackles for loss, and 5.5 sacks. Mike Kotz (6-2, 220) and Dan Rogers (6-2, 220) have 48 and 46 tackles, respectively, and have combined for 15 tackles for loss.
Defensive backs P.J. Cummings and Neal Loftus each have four interceptions, while Roman Hunter has three.
The Titans' kicking game has not been strong this year. Sophomore Michael Fenger has hit just 3-of-10 field goals this year and has missed eight of his 30 extra point attempts.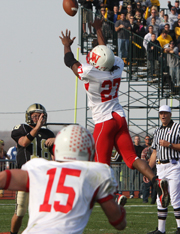 Wabash is coming off a hard-fought, emotional 32-19 win over DePauw in the 116th Monon Bell Classic, which was played before a national television audience and 8,000 fans at Blackstock Stadium.
The Little Giants were led by senior quarterback Matt Hudson, who recovered from a slow start to complete 19-of-30 passes for 325 yards and three touchdowns.
Defensively, Wabash bent plenty against DePauw's powerful offense, but stepped up to intercept three passes, block a field goal attempt, and make a key fourth-down stop early in the fourth quarter.