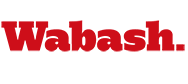 Third Quarter Propels Wabash to Win
by Howard W. Hewitt

October 31, 2009

OBERLIN, OH. – The Little Giants put 27 points up in the third quarter Saturday to beat Oberlin, 41-9, and erase memories of a forgettable first half.

Wabash (7-1) managed just 38 yards on the ground, 176 in the air and a single score in the first half. The glaring sore spot was eight penalties for 90 yards.

"They played well in the first half and we didn't," Coach Erik Raeburn said. "We played awful up front. We had a ton of penalties just kill us on the offensive line. Defensively, I thought we played soft as well. The focus was disappointing to say the least but I'm happy with how they bounced back and I thought we played real hard in the third quarter and took care of business."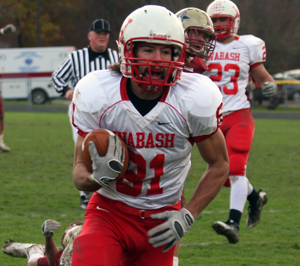 Things turned around after half time and Wabash returned to form. Matt Hudson was back in action after missing the past two games and hit on 24-of-33 passes for 320 yards and three touchdowns. He hit sophomore Geoffrey Wright with a short pass early in the third quarter that the Vernon, IN., took and evaded tacklers for a 25-yard score. It was the wide out's first career touchdown.
"Matt put it out in front of me where it needed to be and I made the catch," Wright said. "I saw two defenders right there and some guy got my foot. I thought I was going trip. I saw the end zone and just tried to get in there. I was pretty pumped, that's about as excited as I've been in a while."
It was then no surprise that Kody LeMond, who had an 11-yard catch in the first quarter, took over with a 5-yard touchdown pass then his second career rushing touchdown. LeMond was in the right place at the right time when Derrick Rowe fumbled after a short run. While everyone watched thinking the ball was dead, LeMond scooped up the ball and jogged into the end zone untouched.
Quickly a 7-3 Wabash halftime edge turned to a 28-3 ballgame. Sam Smith blocked a punt in the end zone to get the Little Giants another third-quarter touchdown. Freshman Derek Rowe capped off the Wabash scoring with 9 carries and 37 yards with a 1-yard score, 41-9.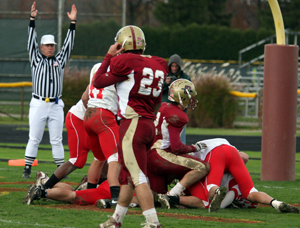 Seeing the freshman Rowe and Wright get their first touchdowns was a highlight for Raeburn. "Our guys were cheering a little extra hard when Geoff scored and then again when Derek got into the end zone," the coach said "They appreciate that kind of play and they understand how important it is to score that first touchdown."

Wabash finished with 138 yards rushing, most of that coming in the second half. Hudson's 320 passing yards brought the total offense to 458. Oberlin had 38 on the ground and 197 via the pass for 235 total yards. Wabash finished with 10 penalties for 105 yards.

Freshman Kyle Stevens led the rushing with 48 yards on 10 carries. LeMond had seven catches for 85 yards and two scores to complement the one rushing TD.

C.J Gum led the Little Giants in tackles for the third straight week with 11. The defense did force turnovers. The Yeoman fumbled the ball five times and lost four of those.

Jake Martin and Kenny Coggins each had five stops with Matt Whyde and Matt Kraft adding four each. Martin had an interception for Wabash.

"We were flat today but still got the victory," the junior defensive back said. "It's kind of hard to swallow the way we played. In the first half we were kind of bend but don't break defense and. we gave them yards and gave them yards. But in the third quarter we came out and played like we can and really showed how we should have been playing the whole game."

The Little Giants are now 5-1 in the North Coast Athletic Conference. Oberlin falls to 1-7 (1-4). Wabash returns home Saturday for Senior Day hosting Hiram.

Photo on homepage: J.D. McClintic forces the Oberlin quarterback to fumble.
Photo (top right): Geoffrey Wright scores his first career touchdown.
Photo (bottom left): Sam Smith dives on the football after a Kyle Najar blocked punt in the endzone for a touchdown.




Results: Wabash 41, Oberlin 9 Game Stats