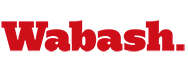 Moot Court Finals Tonight
by Jim Amidon

October 23, 2009

Four Wabash students — including a freshman — will compete tonight in the finals of the 16th Annual Moot Court competition at 7:30 p.m. in Salter Hall. The Little Giants will argue before judges from the Indiana Supreme Court, Indiana Court of Appeals, Montgomery Circuit Court, and the Political Science Department.

Historically, Moot Court cases the students argue involve timely legal debates and this year is no exception. The case this year involves the constitutionality of a Latin cross being placed on public grounds for the purpose of honoring war veterans, and whether doing so is a violation of the establishment clause.

Arguing the case will be freshman Riley Floyd, junior Steve Maynard, and seniors Alex Ingram (pictured below) and Zack Lanning. Nick Maraman was named First Alternate.

The finals will be judged by Justice Theodore Boehm of the Indiana Supreme Court, Judge Carr Darden of the Indiana Court of Appeals, Hon. Thomas Milligan '63 of the Montgomery Circuit Court; and Dr. David Hadley, professor of political science at Wabash College.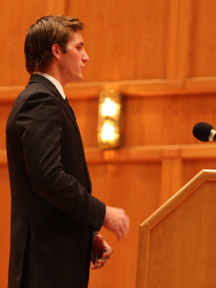 Moot court competitions are typically done in the second year of law school, and typically involve appeals cases where the facts of the case are not in question. The Wabash competition forces petitioners and respondents to argue the interpretation of the law in a given case. The annual event is a collaboration between Wabash alumni lawyers, the Indianapolis Association of Wabash Men, and the Wabash College Rhetoric Department.
"We are one of a very few undergraduate schools to offer moot court," said Wabash alumnus Matthew Griffith, a partner in the Indianapolis firm Thrasher Buschmann Griffith & Voelkel, P.C. "This is not mock trial. This is appellate argument, which tests a completely different skill set than trial work. Our Moot Court Competition is based on what law schools offer. In fact, our moot court program is more challenging that many law school programs.
"Wabash graduates go to law school with this incredible experience, giving them a clear advantage over their new law school classmates."
Twenty Wabash College alumni lawyers will return to campus to tutor students and judge preliminary rounds.
"The Moot Court Competition gives our students an opportunity to utilize the skills and intellectual development fostered by their liberal arts education in a competitive environment that mirrors a real world experience – in this case, the arguments made and heard in appeals courts across our country including the United States Supreme Court," said David Timmerman, Professor of Rhetoric at Wabash.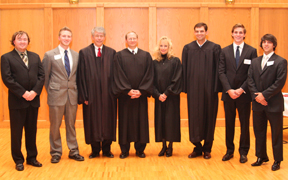 While a majority of student participants are interested in careers in law or public service, the competition is open to the entire student body and draws interest from across academic majors at Wabash. "Moot Court teaches reasoning and speaking skills that obviously translate into all other activities that humans participate in," said Dr. Timmerman. "When you sharpen your ability to think on your feet, in the moment, and respond in a clear and articulate manner, you improve your ability to do everything else you pursue."
In recent years, students have argued cases involving the constitutionality of Indiana's voter identification law, prayers given in the Indiana legislature, the execution of mentally disabled persons, cross burning, and the display of the Ten Commandments, to name a few.
"Like many traditions at Wabash, Moot Court fuses our most precious resources together to create something extraordinary," added Dr. Timmerman. "In this case it is the good work and passion of our students, faculty, and alumni focused on an oral argument about a significant societal issue. It is always encouraging to see our alumni join in the task of educating our students and to see our students rise to the occasion to stand and deliver in making their case in front of judges who begin interrupting them with difficult questions after they get their first sentence or two out!"
Twelve students competed in the semifinals: Ian Muller and Alex Gillham (petitioners) vs. Steve Maynard and Nick Maraman (respondents).; Victor Nava and Steve Henke (petitioners) vs. Riley Floyd and Emanuel Harper (respondents).; and Alex Ingram and Sean Huston (petitioners) vs. Zach Lanning and Tim Markey (respondents). Judges for the semifinal round were alumni Scott HImsel '85, Matt Griffith '89, and Tom Fisher '91, and Rhetoric Professor David Timmerman.
Wabash students participating in the 2009 Moot Court Competition include:
Tommy Ball '12 Glenview, Illinois
Michael Carper '13 Indianapolis, Indiana
Michael Fitzpatrick '10 Weauwega, Wisconsin
Riley Floyd '13 Noblesville, Indiana
Derek Fritz '13 New Haven, Indiana
Alex Gillham '13 McCordsville, Indiana
Emanuel Harper '10 Indianapolis, Indiana
Aaron Hirsch '12 Indianapolis, Indiana
Sean Huston '10 Indianapolis, Indiana
Alex Ingram '10 Pendleton, Indiana
Rob Janda '10 Burr Ridge, Illinois
Brian Kested '12 Johnstown, New York
Adam Kowalski '13 Darien, Illinois
Zach Lanning '10 Kokomo, Indiana
Nick Maraman '10 Prospect, Kentucky
Tim Markey '12 Fort Wayne, Indiana
James Martin '13 Burlington, Wisconsin
Alejandro Maya '13 Hammond, Indiana
Steve Maynard '11 Deer Park, Illinois
Matt Meyer '12 Valparaiso, Indiana
Jacob Moore '11 Crawfordsville, Indiana
Ian Muller '12 Carroll, Iowa
Victor Nava '10 Del Valle, Texas
Michael Nossett '11 Brownsburg, Indiana
Jesse Purvis '10 Indianapolis, Indiana
Bryce Shellman '10 Albion, Indiana
Jacob Surface '11 Crawfordsville, Indiana
Grayson Swaim '12 Camby, Indiana
Ben Williams '11 Elkhart, Indiana
Garrett Wilson '13 Lafayette, Indiana