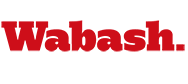 Little Giants Fall on Late Field Goal
by Howard W. Hewitt

October 17, 2009

Wabash and Wittenberg entered Saturday's game averaging a combined 90 points a game. But defense ruled Saturday's NCAC fight with neither team able to score in the first three quarters.

Check out photos of the game here, here, and here. Some other game day photos are here.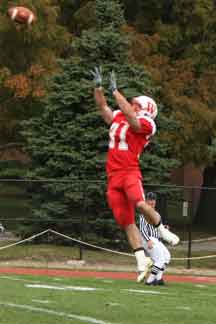 Zach Harris hit a 31-yard field goal leaving one second on the clock after Brandyn Brown returned a kickoff 53 yards to set up the winning drive. The 10-7 win puts Witt at 6-0 with Wabash falling to 5-1. The loss spoiled a record-setting performance by defensive back Addrian Frederick (right).
For most of the game, it looked like neither team would find the end zone. Both teams missed early field goals but never found the red zone until late.
And it wasn't easy when the first points were scored. Wittenberg had mounted an 8-play drive and faced a crucial third-and-10, from Wabash's 21-yard line. Aaron Huffman hit Michael Cooper for 21 yards to break the ice and give the Tigers a 7-0 edge.
Wabash had a three-and out, and Wittenberg put together another long drive but it ended without any points. Wabash then drove 72 yards to knot the score. Quarterback Josh Miracle hit three-of-four passes and then found Jonathan Horn for a 15-yard gain to the Witt 43. He connected with Kody LeMond for another 13 yards.
On the next play, LeMond (below left) got behind the Witt defense and Miracle threw a perfect pass for a 29-yard score.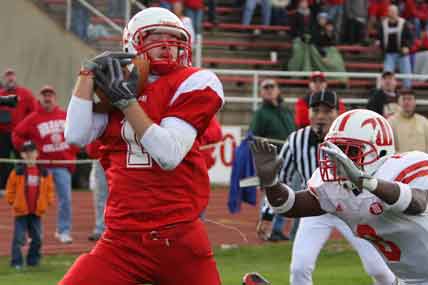 "Josh hung in there and went through his reads and put together a real good drive," Coach Erik Raeburn said. "We got good protection from our line and our backs and hit Kody on some good plays but we just didn't play well enough offensively over the whole 60 minutes."
On the ensuing kickoff Wabash was called off sides and had to re-kick. The second kick resulted in Brown's long return to the Wabash 35. The Tigers were able to work the ball down field 21 yards in six plays to set up the winning kick.
Wabash won at Wittenberg last season on a Spencer Whitehead field goal.
Miracle got his first start with Matt Hudson, the NCAC Offensive Player of the Year, sidelined with an injury. He hit 18-of-31 passes for 194 yards, two interceptions, and the touchdown.
"We had 10 others guys out their on offense," Raeburn said of the sophomore's first-ever start. "We have a bunch of guys that need to block better. We have a bunch of guys who need to run the ball harder. We have a bunch of guys who need to get open.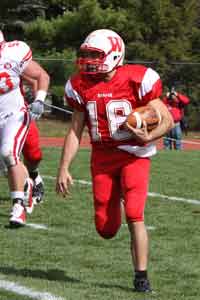 "Certainly Josh (right) made some mistakes, but he got put in a tough situation making his first start against the Number one-ranked defense in the nation. That's a tough deal, but there are 10 other guys out there with him on offense that have to play better too."

The defense couldn't have played much better, time and again halting Wittenberg drives. Matt Kraft and C.J. Gum had 13 and 12 tackles, respectively. Addrian Frederick tied a school record by picking off Witt's Huffman four times.

"That's what we talked about, we felt like if we got some turnovers we could win," Raeburn said. "We just didn't execute well enough on offense. Our defense played great and gave us everything we needed to win the game but we just didn't make it happen."

Wabash's offensive line couldn't get anything going on the ground. Tommy Mambourg ran 13 times for just 25 yards. The Little Giants had 29 rushing yards for the day. Wittenberg ran the ball 40 times and managed 187 yards.

Witt quarterback Huffman threw for 168 yards, but suffered the four picks — all by Frederick, who as a high school senior led the state of Indiana in interceptions.

Wes Chamblee led Wabash with seven catches for 62 yards, while LeMond had five receptions for 75 yards and the one score.

"It was a good football game and a hard-hitter," Raeburn said. "Both defenses played really well. They made one more play than we did."

Wabash has a trip to Wooster Saturday.




Results: Wittenberg 10, Wabash 7 Game Stats