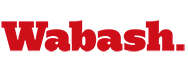 What's Happening at Wabash College September 2009
by Karen Handley

August 26, 2009

Continuing
Art Exhibit: Eleanor Spiess-Ferris: Sorrows of Swans and Krista Hefle: The Girl Who Stopped Being Human! Eric Dean Gallery, Fine Arts Center. The exhibit continues through October 14. (Admission is free)

Over 60 vendors and services from the Crawfordsville area will be in Knowling Fieldhouse to connect with students. Free lunch served. Prizes and giveaways. Dress is casual - stop by anytime during the event.

8 p.m., Poetry reading by Scott Cairns, Center Hall, room 216 (Admission is free)

5-6:30 p.m., Youth Day Football Clinic, Hollett Little Giant Stadium

Wabash College will hold its free Youth Day Football Clinic from 5 to 6:30 p.m. at Byron P. Hollett Little Giant Stadium. The clinic is for children in kindergarten through 6th grade. For further information contact the Wabash College Football office at 765-361-6220.

Community Day

11 a.m., Memorial Service for Dick Ristine '41, Pioneer Chapel

4:30 p.m., JV Football vs. DePauw, Hollett Little Giant Stadium (Admission is free)

11 a.m., Homecoming Alumni Chapel, Pioneer Chapel

7:30 p.m., Homecoming Concert, Salter Concert Hall, Fine Arts Center (Admission is free)

9 p.m., National Act Concert: Ben Folds, Chadwick Court, Allen Center (Tickets: $20 to the public; available at the Wabash College Bookstore, lower level, Sparks Center)

Alan Weisman is a senior editor and producer for Homelands Productions. He has reported from the U.S., Mexico, Canada, Central and South America, the Caribbean, Antarctica, Europe, the former Soviet Union, and the Middle and Far East.