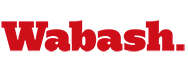 Wabash Participates in Brain Day
by Kim Johnson

July 16, 2009

The Carnegie Museum of Montgomery County hosted its first "Brain Day" filled with fun activities about one of the body's busiest organs. Click here to see photos from the event.

Wabash College's Psychology Department partnered with the museum to provide activities, brains, and manpower for the event. Professors Neil Schmitzer-Torbert and Karen Gunther were on hand to share their expertise along with students Daniel King '10, Stephen Apostolidis '12, and Carnegie Museum intern Adam Current '11.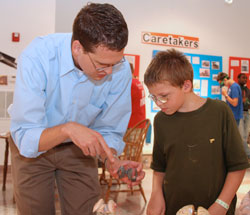 The 161 participants at Brain Day had the opportunity to see and feel brain specimen, look at brain cells through a microscope, read stories about the brain, see their own brain at work on an EEG, and participate in a number of sensory activities.
For Gunther and Schmitzer-Torbert, getting involved with the day was a no-brainer. "It is important to get out into the community as a faculty member, to encourage people in general, and children in particular, to be interested in learning," said Schmitzer-Torbert. In addition, Gunther said "We hopefully planted some seeds of inquiry in the kids so they may look for more information about the brain – at the library, on the Internet, or elsewhere."
Carnegie Museum Director Kat Burkhart appreciates the partnership with the College. "I am very glad we have been able to partner with professors from Wabash. I hope we can continue to work with many professors in different fields. They provide the academic expertise that we cannot match and hopefully they enjoy presenting their studies to the museum visitors."