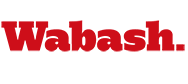 2009 Big Bash Registration Deadline is Today!
by Tom Runge

May 10, 2009

Today is the last day to register for the 2009 Big Bash at Wabash. Don't miss out on this opportunity to travel back to campus and spend a couple of days relaxing with your classmates and reliving the "good old days". 

To register, click here.