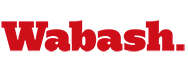 Cochlear America Awards Swaim a Scholarship
March 30, 2009

Grayson Swaim, a Wabash freshman who uses Cochlear Implants, was one of five students awarded a national scholarship over the weekend. The scholarships are funded by Cochlear America, a company working in advanced hearing technologies.

The Graeme Clark Scholarships have been awarded since 2002. The other four scholarship winners were from Pennsylvania State University, Assumption College, University of North Carolina at Wilmington, and University of Northen Iowa.

Read more about Cochlear American and the Graeme Clark Scholarship awards.

Earlier this year The Bachelor published a profile on two Wabash freshmen using the implants. Click on the link above to read about Swaim. Brock Semsprott, a North Montgomery graduate, has also excelled in his short time at Wabash.