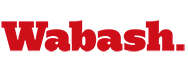 Grayson Swaim Looks Ahead
by John McGaughey, Copy Editor

February 12, 2009

Brock Sempsrott '12 is a hearing-impaired freshman who manages to live successfully through the use of cochlear implants. While his tale is impressive, it is not unique; Grayson Swaim '12, another hearing impaired freshman, also lives a fully functioning life with the assistance of cochlear implants.

The tall, red-haired freshman maintains an active life on campus, with obligations to his fraternity, Theta Delta Chi; the Parliamentary Union; and the College Republicans. A lover of Family Guy, CNN "on good days," reading, and listening to Spanish music, Swaim is also involved in non-Wabash organizations, including Hear Indiana, a statewide group that helps assists deaf people; and the Morgan County Republicans, of which he is a precinct committee member.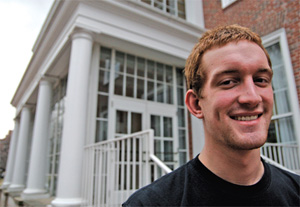 "I'm like every other guy," Swaim said. "My hearing doesn't define who I am."
Swaim, unlike Sempsrott, was born with the ability to hear. However, this sense was stricken from him by a bout of bacterial meningitis when he was eleven months old. Meningitis, an inflammation of the spine, which in his case occurred when a surplus of white blood cells collected in his spinal system, resulted in the loss of his hearing, though more disastrous results could have been produced, such as blindness or paralysis.
The collection of white blood cells resulted, in Swaim's case, in an ossification of the ear, meaning that soft tissues in his inner ear formed into bone. This caused the loss of his hair cells, the sensory receptors on his cochlea responsible for transmitting sounds to the brain for interpretation.
"Cochlear implants are for people who still have their nerve cells in the ear," Swaim explained, "but don't have hair cells anymore. They're responsible for how much you hear. If you've lost 70 percent of your hearing, then you've lost 70 percent of your hair cells."
To combat his loss of hair cells, Swaim received his first implant at the age of five, in his right ear. He adapted quickly, but eventually needed another implant, which he received his freshman year of high school in his left ear.
"The way [cochlear] implants work," Swaim explained, "is that there is a decoder implanted into your head. A computer chip in the decoder produces electronic sounds, and this goes to an electrode which in turn goes to the cochlea. The brain over time interprets the electrical signals as sound."
What's interesting is that Swaim has implants from two different companies in each ear. The original implant in his left ear was made by Cochlear Company, and the later implant in his right ear was made by MEDel.
"They don't work together, but separately," Swaim said. "I was actually one of the first to receive bilateral implants, and it's not working as well as we'd hoped."
Swaim remains confident, however, noting implants require time for their users to get accustomed. It could take "one year, or maybe even up to a decade," but eventually deaf people "break in" their implants, a feat which Swaim has claimed to have accomplished.
"From here, my hearing will either improve, or it won't," Swaim said. "It depends on the technology. But I think it will drastically improve."
In any case, Swaim has certainly adjusted well to college life. Between his multiple responsibilities and fraternity life, he maintains high grades and is currently on the Dean's List.
"I've been able to handle the challenge of college life pretty well so far. I'm pretty independent. I guess one difference is I take my notes in class on a laptop computer so that I can lip read what my professors are saying, so I won't miss out on any information."
Swaim also has grand plans for his life upon graduating, including traveling the world and becoming fluent in Spanish.
"I have lots of dreams. I hope to work in the government someday and help people. I think Wabash will help me do that. I also plan to write a book someday about the experiences of a deaf person, and I want people to be more understanding of the deaf community. Deaf people often feel opted out of society and I want to help fix that.
"But mainly, I want to be happy."