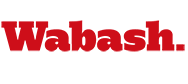 Wooster Win Gives Petty 500th Victory
by Brent Harris

January 10, 2009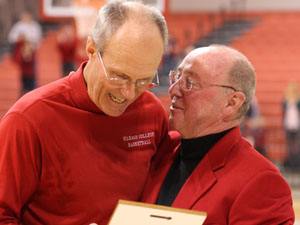 Saturday afternoon may be one time Wabash head coach Mac Petty could not get mad at basketball team for not listening to his pregame talk.
Hours after Petty told his players Saturday's game was just another contest, his Little Giant players defeated the College of Wooster 75-58, giving Petty his 500th career victory. (View photos from the game here and here. View video highlights of Petty's post-game comments [Quicktime video])
The Wooster, Ohio native won 48 games as the head coach at Sewanee before coming to Wabash in 1976. Saturday's win was number 452 in his 33-year career at the helm of the Little Giant program. He becomes the 10th active coach in Division III to post 500 victories. Only 22 coaches that have worked at the DIII level have won 500 or more ball games.
"The 500 wins are really a tribute to all of my players and teams over the years," Petty told the media after the game. "No one gets to that number without having tremendous young men on floor year after year."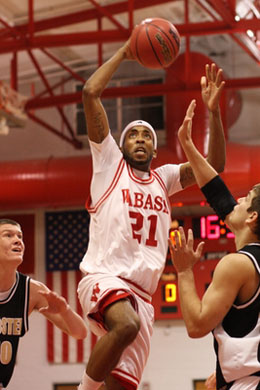 There was little doubt from the start of the game this year's group of players was going to do their best to give Petty the milestone win. Wabash raced out to a 13-0 lead over the first 4:19 and would never trail in the contest. Sophomore Wes Smith dominated play at both ends, scoring seven points with three rebounds in the opening minutes. Smith drove the lane and elevated for two early jumpers before slashing to the hoop for a dunk to put the Little Giants up 10-0.
Wooster cut the lead to six points twice in the first half before the Little Giants took a 38-30 halftime lead to the locker room. Wabash put together another key run over the first five minutes of the second half of play, opening up a 14-point advantage by outscoring Wooster 12-6. The Scots would never get the lead under double-digits the rest of the game.
Wabash hustled for rebounds, made key steals, and hit huge shots over the final 15 minutes of the game to take a 17-point lead with 4:17 left in the contest. The Little Giants traded free throws for two Wooster three-pointers in the final four minutes to earn the win.
Smith posted monster numbers, scoring 24 points with 14 rebounds for his third double-double of the season. He added five steals, three assists, and a blocked shot. He was 10-of-17 from the field and 4-of-8 from the free throw line. Junior Chase Haltom added 17 points, going 3-of-7 from the field while hitting 8-of-9 free throws with seven eight charity tosses coming in the final five minutes. Aaron Brock added 11 points in the victory.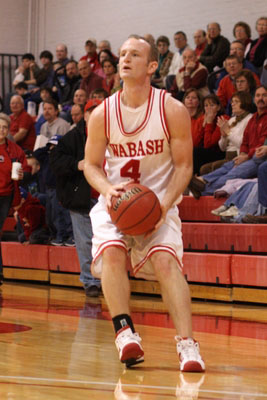 Wabash shot 46 percent from the field (23-of-49) and 45 percent from beyond the three-point arc. The Little Giants hounded Wooster on defense all day, holding the Scots to 6-of-19 shooting from behind the three-point line and 21-of-53 from the field. Wabash forced 20 Wooster turnovers and picked up 16 steals in the game. Wooster (8-5, 3-1 NCAC) was led by the 13-point effort of Nathan Balch. Marty Bidwell and Bryan Wickliffe each had 10 points. The Little Giants held Wooster's leading scorer, Ian Franks, to just two points before fouling out of the contest. Franks came into Saturday's game averaging 14.2 points a game.

The Little Giants' win was the second consecutive victory over the Scots, but the first at Chadwick Court in over 30 years. Wabash beat Wooster 87-63 in the semifinal round of the North Coast Athletic Conference men's basketball tournament last year at Wooster. The Little Giants defeated Wooster 91-83 at Chadwick Court in December of 1975 before losing the next nine games at home before today's victory. Wabash also snapped a 12-game NCAC regular season losing streak to the Scots with the win.

Smith and Brock also reached key levels in their careers. Brock passed the 700-point mark with 709 career points in 67 games. Smith has scored 521 points while playing in his 40th game at Wabash.

The Little Giants improve to 7-5 for the season, and even their conference record at 2-2. Wabash travels to Ohio Wesleyan University Wednesday evening.

Photos - (Top right) Wabash Director of Athletics Tom Bambrey congratulates head basketball coach Mac Petty on his 500th career win.

(Top left) Wes Smith took control of the game early, scoring seven of the first ten points for Wabash. He finished with 24 points and 14 rebounds.

(Bottom right) Chase Haltom nailed three trey's in the game to help Wabash earn its first win over Wooster at home since 1975. Haltom finished with 17 points.




Results: Wabash 75, Wooster 58 Game Stats