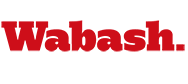 Neal '81 Named to Key Justice Post
December 11, 2008

United States Attorney General Michael B. Mukasey has announced the appointment of David L. Neal as Vice Chairman of the Board of Immigration Appeals (BIA), effective January 5, 2009.

Neal is a 1981 Wabash graduate who earned a master's degree in 1984 from Harvard Divinity School, and a juris doctorate in 1989 from Columbia Law School. He is a member of the New York and District of Columbia Bars.

The Board of Immigration Appeals (BIA or Board) is the highest administrative body for interpreting and applying immigration laws.
The Board has been given nationwide jurisdiction to hear appeals from certain decisions rendered by Immigration Judges and by District Directors of the Department of Homeland Security (DHS) in a wide variety of proceedings in which the Government of the United States is one party and the other party is either an alien, a citizen, or a business firm.
Prior to this appointment, Neal had been the Acting Chief Immigration Judge for the Department of Justice. Judge Neal served as an Assistant Chief Immigration Judge (ACIJ) from April 2005 to April 2006. He also served as an immigration judge at the Headquarters Immigration Court from June 2004 to April 2005.
Previously Judge Neal served as special counsel to the Director, EOIR, from January 2003 to June 2004. From October 2001 to January 2003, he served as chief counsel to the Senate Immigration Subcommittee. Judge Neal was an attorney advisor for the Board of Immigration Appeals (EOIR's appellate component) from November 1996 to October 2001.
Judge Neal practiced immigration law in Los Angeles from June 1993 to October 1996 and also served as the director of policy analysis for the American Immigration Lawyers Association from August 1990 to May 1993.
In his capacity as the Chief Immigration Judge, Neal provided overall program direction, articulated policies and procedures, and established priorities for more than 200 Immigration Judges located in 54 Immigration Courts nationwide.
Immigration Judges are responsible for conducting formal administrative proceedings to determine whether foreign-born individuals who are charged with violating immigration law should be removed from the United States or may be granted relief from removal. Immigration judges decide each case independently, and their decisions are final unless appealed or certified to the Board of Immigration Appeals. In the past year, Immigration Judges completed more than 250,000 such proceedings. They also are authorized to administer oaths of citizenship to candidates for naturalization.