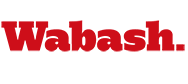 Wheaton Ends Wabash Playoff Run
by Howard W. Hewitt

November 29, 2008

Wheaton College ended Wabash's playoff run Saturday, 59-28, at Little Giant Stadium. The Little Giants scored the game's first touchdown but the Thunder answered with 29 straight points.

The Thunder limited the Little Giants to 36 yards rushing to their own 204. See photos here, here, and a feature album here.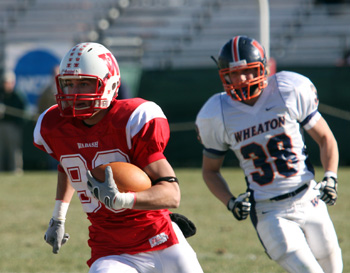 "Our offense struggles when we don't have balance," Junior quarterback Matt Hudson said. "If I throw the ball 40 times our chances of winning the game are definitely not as good as if I'm throwing the ball 18 times and we're rushing 50 times.
"They made it clear from the start they were not going to let us run the ball. They decided they were going to blitz all day and play man behind it and we just couldn't find the holes up front to get any big runs."
Wabash grabbed the game's first lead when David Mann picked off a Sean Norris pass to put the Little Giants in business. After a tough first three downs, Evan Sobecki inched in from the one-yard line to give Wabash the early momentum. But it didn't last long.
Jeff Lake caught a 12-yard Norris pass to tie the game then All-American defensive back and return specialist Pete Ittersagen returned a punt 70 yards to give Wheaton control. Rocky Gingg ran one in from seven yards early in the second period then Alex Pokorny caught a 14 yard pass for another Wheaton score, 28-7.
Kody LeMond caught a 4-yard pass with under a minute to play in the half to cut the lead in half, 28-14.
Wheaton came out and added four more scores to salt the game away in the third and early part of the fourth period. The Little Giants got a 2-yard run from Bobby Kimp and Brock Graham caught a 16-yard pass for the other score and the 59-28 final.
"I'm frustrated with the loss certainly but they beat us in every phase of the game," head coach Erik Raeburn said. "Our guys played hard but we just didn't execute well enough.
"We couldn't stop them. They only had to punt one time  We couldn't get in sync on offense either; they got pressure on us, or we couldn't get someone open or wasn't able to hit them. We couldn't get any runs going. We played pretty poorly on offensive."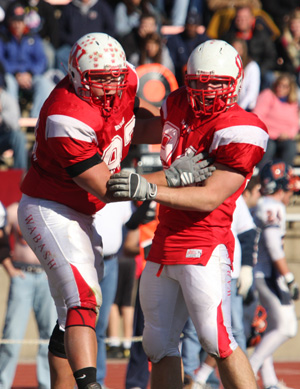 Wheaton out-gained the Little Giants 504-266. They were 4-of-7 on third down conversions compared to Wabash's 3-of-12. They threw for 300 yards to Wabash's 230. Still the rushing numbers really told the story.
Brady Young had a 23 yard rush on an end-around and late in the game Derrick Yoder broke a run for 17 yards, but the no gains and tackles for loss gave Wabash only a net 36 yards for the contest.
"That's something we're going to have to work on in the off season - our running game for sure," Hudson said. "It's one thing to run for 300 yards against Kenyon or Hiram but once you get in the playoffs you have to be effective running the ball.
"You look at our last three playoff wins against Mt. St. Joe's and two against Case and we've been effective running the ball. We had good rushing yards in those three games. Today we didn't have much. And last year against Whitewater we didn't have very much very much against them .We throw the ball 40 times, it's going to be a struggle."
Hudson did throw the ball 43 times and completed 22, but his biggest connection was a 23-yarder to LeMond. Young's 23 yards, on the one run, led the Little Giants rushing.
Defensively, Rich Lehman and Jared Lange had 8 tackles apiece. Josh Gangloff and Brent Banach each added seven. Mann had two interceptions to go with his four tackles. The Little Giants managed just one quarterback sack.
The loss leaves a bitter pill for the underclassmen, Hudson said.
"I didn't realize we hadn't lost a home game since we lost to Capital the seniors, freshman year," he said of the Bell loss two weeks ago. "Losing two in row a home is tough. I feel kind of embarrassed about the way the last two games ended. We have great, great support here at Wabash and basically to lay two eggs in a row at home is very disappointing."
In photos: Top right, Brady Young with the run after the catch. Lower left, Josh Gangloff (left) celebrates his quarterback sack.