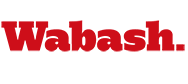 Smith's Big 1st Half Leads to Win
by Jim Amidon

November 22, 2008

Sophomore Wes Smith scored Wabash's first 10 points and four Little Giants reached double figures in a hard-fought 57-52 win over DePauw University in the consolation round of the Little Giant Tipoff Classic.

See pictures from the contest here.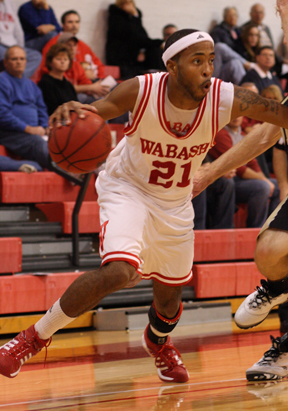 Smith, who missed all seven of his field goal attempts in the season-opening loss to Wilmington, came out on fire against DePauw. He single-handedly kept Wabash in the game early on against DePauw. Smith finished with 21 points, four rebounds, five steals, and a blocked shot.
"Wes did a nice job for us, but this is a team that has to get everyone involved," said Coach Mac Petty, whose team hosts Hanover Tuesday night.
"Mid-way through the first half, our guys off the bench did a nice job — they made some significant contributions and you need that when you play back-to-back games like we did this weekend."
Sophomore guard Dominique Thomas hit a three-pointer off the dribble at the 11:05 mark that seemed to give the Little Giants a spark. It also narrowed the Tigers' lead to three points, 17-14. Jumpers by rookie AZ Zinnerman and Wes Smith got Wabash within one. Aaron Brock drained his only three-pointer of the game moments later and the Little Giants took a 21-19 lead. DePauw would get no closer the remainder of the game.
Layups by Chase Haltom and Smith in the final minute gave Wabash a nine-point halftime cushion, 31-22. Smith finished the first half with 18 points, hitting 8-of-16 shots.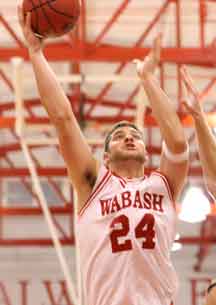 "Coach (Antoine) Carpenter gave one of the most inspirational talks I've ever heard this morning, trying to get the guys refocused after last night's loss," said Petty. "As a former player, I think he reached them."
Indeed, Wabash made 34 turnovers Friday night, but cut that in half against DePauw, committing only 16 miscues. Wabash shot the ball better (39 percent) and held DePauw to 35 percent shooting and forced 20 Tiger turnovers.
Smith cooled off in the second half, finishing with 21 points, but his defensive intensity provided a spark. Haltom and Thomas chipped in 11 and 10 points respectively, while junior forward Aaron Brock (right) recorded a double-double with 11 points and 12 rebounds.
Senior Brian Maloney didn't dent the scoreboard, but grabbed three rebounds and made two steals. His play impressed his coach.
"I'll tell you, Brian Maloney played 22 solid minutes of defense," said Petty. "It's not glamorous, but boy is it appreciated."
Wabash's three-point shooting was the team's only real weak spot Saturday afternoon. The Little Giants hit just 2-of-12 long-range shots, both coming in the first half when Thomas and Brock made key shots for Wabash.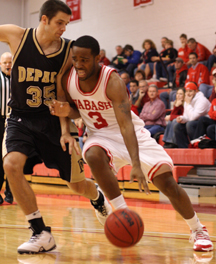 Thomas' 10 points are a career high. The sophomore from Moss Point, Mississippi, hit 3-of-5 shots and 3-of-4 free throws to go with three rebounds in just 12 minutes.
"Dominique Thomas doesn't play a lot, but he stepped up and made some big free throws for us," added Petty. "Today we played much smarter ball and we stayed together."
The Little Giants (1-1) and Tigers (0-2) will tangle again — the two teams battle in Greencastle after Thanksgiving.