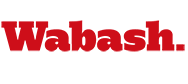 Chamblee Catch Extends Playoff Run
by Howard Hewitt

November 22, 2008

CLEVELAND, Ohio - Wes Chamblee hauled in a 52-yard Matt Hudson pass with 48 seconds to play to give Wabash a come-from-behind 20-17 playoff win at Case Western University Saturday. The Little Giants will be home next week to host Wheaton.

Case had taken a 17-13 lead with just 1:52 to play before the Hudson-to-Chamblee heroics. But even that spectacular exclamation point to the playoff win would not have been possible without a similar hookup the prior play. (View photos from the game here, here, here, here and here.)

Wabash was trailing by three and facing a fourth-and-15 at its own 27. Hudson calmly found Chamblee breaking across the middle for 21 yards. The duo then connected for the game winner.
Chamblee, who had 8 catches for 171 yards, caught the ball on the 35 and then broke to his right and the corner of the endzone.

"Matt and I made eye contact and he threw a perfect ball," Chamblee said. "I caught it in stride and saw I had to beat one guy. I cut back on him and was able to go all the way in.

"The middle of the field was wide open. Matt saw me and made the perfect connection."

"We had an all-go call where everyone just runs to an open spot," quarterback Matt Hudson said. "We both saw the middle of the field was wide open. I think I just barely got the pass over the outstretched hand of one of their defenders. The rest of it he just made a great play."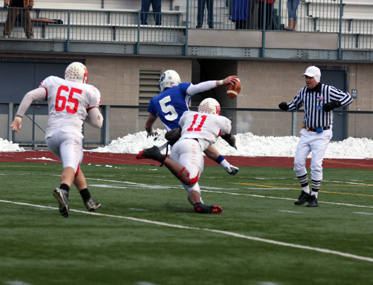 The Wabash defense, which played well all day chased Case quarterback Dan Whalen for a 24-yard sack on the second play of the final series. That effectively ended any chance of a Case comeback.
The win was a big bounce back emotionally for the Little Giants, coming off their only loss of the season. Wabash (10-1) earns a home playoff game.
"That was a disappointing game we played a week ago," head coach Erik Raeburn said. "One of two things could happen. It could shake your confidence as a team, let it affect your preparation for the week, or you can work to get better and be ready play your next opponent. All the different adverse situations we've faced all season I thought we've handled them pretty well. I was hopeful our guys would be back."
The Wabash defense held high-scoring Case in check until the fourth quarter. Wabash was clinging to a 6-3 lead when Adrian Frederick intercepted a Whalen pass at the Case 27. The Little Giants then pounded Evan Sobecki right at the line on four straight runs which ended with a two-yard score, 13-3.
Then Case, which saw its perfect season ended last year by the Little Giants, put up two fourth quarter touchdowns to take the 17-13 lead.
The offense did what it had to do in the fourth quarter, while the defense dominated at times. Rich Lehman had 11 tackles while Bryan Watson added eight. Jared Lange, Derrin Slack, and Darryl Kennon each had six stops.
Wabash recorded five sacks on the mobile Whalen. Kennon and Lange, in particular, spent considerable time chasing Whalen in his own backfield.
"We knew if we were going to win we had to be disciplined on the defensive line all day," Lange said. "It seemed like we had Whalen wrapped up 20 times but we just couldn't get him down. We knew if we could at least keep him contained and make him feel pressure we would be all right."
Case took the opening kickoff and put a 31-yard Sam Coffey field goal on the board. The Spartans made that stand into the second half. Wabash opened the second half with a seven play, 60-yard drive that ended in a score.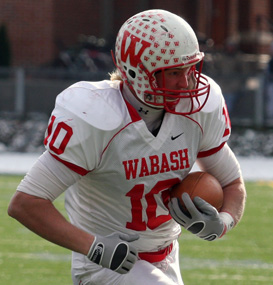 The touchdown came when Hudson hit tight end Scott Liska for an 18-yard score. The big tight end broke a couple of tackles before rumbling into the endzone, 6-3.

Hudson hit on 19of-31 passes for 267 yards. He was sacked four times but had two touchdowns. Sobecki ran the ball 18 times for 87 yards.

The Little Giants ran the ball 37 times for 87 net yards while Case could manage only 64 on the ground.

"Last week against DePauw was my first-ever loss at Little Giant Stadium," Sobecki said. "It will be good to play Wheaton at home and have a chance to redeem that loss."

In photos: Top right, Jared Lange and Darryl Kennon sack Trojan quarterback Whalen for a 24-yard loss in the final seconds. At right, Scott Liska on his 18-yard touchdown score.




Results: Wabash 20, Case Western Reserve 17 Game Stats