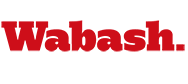 130+ Visit on Top 10 Day
by Howard Hewitt

November 7, 2008

More than 130 talented high school seniors arrived on the Wabash campus for the Top 10 visitation day. The students, ranked in the top 10 percent of their high school classes, are eligible for Wabash scholarships by attending today's event. See pictures of the day by clicking here.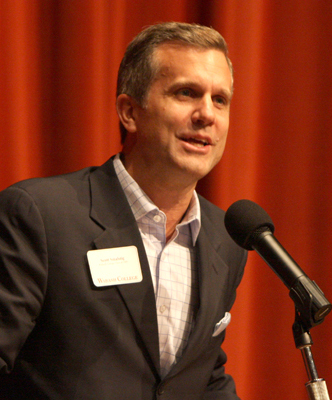 The students were welcomed by Dean of Admissions and Financial Aid Steve Klein and President Pat White at a large gathering in Ball Theater. Scott Smaltstig '88 (left), owner of Joseph David Advertising, gave the keynote address. Beginning with a Colonel Sanders joke, Smalstig wove his personal experiences at Wabash into the path his life has taken him, and he ended his remarks by challenging the students to change the world.
After Smalstig's remarks, the students and their families were broken up into groups. Students attended an alumni panel session including Aman Brar '99 (Director of Business Development for Cha Cha), Dr. David Boulware '96 (Professor at the University of Minnesota Medical School), Scott Medsker '03 (Attorney at Jones Day in Washington, D.C.), Tom Bailey '00 (Manager of Industrial Sales with Vectren Energy), and Steve Pfanstiel '95 (Controller for Johnson and Johnson). 
Meanwhile, the parents were given Wabash campus tours.
After an hour, the two groups switched spots with students given the opportunity to take tours or meet with Wabash coaches. 
The parents listened to a panel of young alumni including Kevin Gearheart '98 (Chief Operating Officer of Dr. Tavel Optical), Bert Salinas '97 (Counsel with the House Judiciary Committee), Jeremy Robinson '04 (Rhodes Scholar and High School English Teacher), and Dr. Dan Vukas '96 (Ear, Nose, and Throat Surgeon).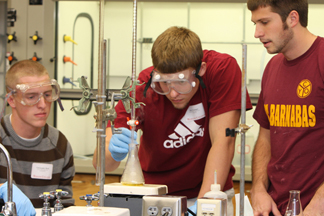 Following lunch with faculty and staff, the visiting students spent two hours in the classroom. Some students chose the sciences, where they worked in biology, chemistry, physics, and mathematics laboratories — conducting experiments and learning the way math and science are taught at Wabash. Other students had one-hour classes in the humanities and social sciences.
While the students were in class, parents attended informational seminars, including a session on Wabash's innovative Immersion Learning programs.