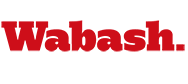 Wabash Reflecting on Obama Victory
by Howard W. Hewitt

November 5, 2008

Barack Obama's historic rise to the presidency, including winning Indiana's 11 electoral votes, has students, faculty, and alumni reflecting on the election's significance.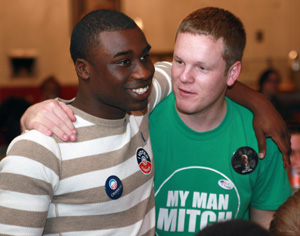 The Democrat won Indiana, something that had not happened since 1964. While those on campus reflect on the election and its impact, a couple of Wabash alums were actively involved in the winning campaign.
Jeremy Bird '00 was General Election Director for the state of Ohio, winning that state helped seal the Obama win Tuesday night. Bird also was the field director for South Carolina, a state which played a pivotal role in the Illinois Senator's nomination fight with Hillary Clinton.
Bird spent election day in the 'bolier room' in Columbus, Ohio, "watching the numbers come in, troubleshooting issues, redeploying our troops, dealing with legal issues, and just making sure our operation was humming," the Wabash religion major said. "It's been a long 20 months, but it has been more than worth it."
Wabash Magazine will have a full feature on Bird's campaign work in the fall issue due out near the end of November. Brock Johnson '07 worked for Clinton during the primary season then joined the Obama campaign as an 'advance team" member.
Students gathered at Baxter Hall Tuesda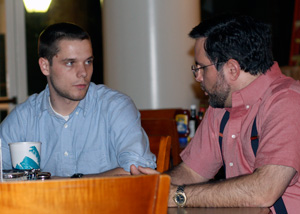 y night to watch television coverage. Democrats and Republicans were joined by faculty members to discuss the changing electoral map. Undoubtedly, the election will be a classroom topic for days to come.
The analysis has already begun. Several Wabash professors weighed in on Obama's victory. Some were interested in the nuts and bolts of how and why Obama won the long election, others were more philosophical.
Professor of Political Science David Hadley has taught and been involved in politics at the state and local level for many years.
"Obama's campaign committed financial and human resources to the campaign," Hadley said. "You have to go back to the fact that the Obama campaign saw something in Indiana, I assume from the primary election results, that gave them reason to believe that they could, with a real commitment of resources, win the state. Add to that the fact that the campaign had the resources, both financial and human, to invest in Indiana, and you get what must be considered a stunning result. I would guess that one of the things the Obama campaign saw in the primary results was the strength he had in some of the traditionally overwhelmingly Republican suburban areas around Indianapolis. This indicated that combined with his strength in Lake County, Indianapolis, and may Terre Haute, he had the opportunity to win significant numbers of younger, middle class voters who were stirred by his candidacy."
Hadley had two classes canvass the Crawfordsville community prior to the election. Much like previous years, the poll which showed McCain winning the city by about three points proved accurate. The student poll hit the presidential and congressional election by under two percent.
Veteran political science professor Phil Mikesell said Obama stirred some vivid memories. "Watching the victory celebration and listening to Obama's speech, I couldn't help but reflect that I had also heard (in the crowd) M.L. King's "I have a Dream" speech in 1963. There has indeed been change. In the day-to-day and up-close world of policy analysis and politicking, we often lose sight of the bigger picture. As the saying goes, "If someone had said to me on that summer day 45 years ago … well, no one would have said it then, because we couldn't have imagined such a thing."
Political Science Instructor Paul Vasquez found himself thinking about McCain's political mistakes. He said selecting Sarah Palin as his vice presidential running mate had to be near the top of the list. "She lacked the governing experience and ability when dealing with the national media," Vasquez said. "A Republican such as Mike Huckabee would have been stronger on both measures, while energizing conservatives without alienating as many independents. Moreover, the excitement Palin brought to McCain's effort could have been achieved somewhat by giving her a prime convention speech and perhaps announcing that she would serve as his Secretary of Energy. A maverick move such as this would have allowed her to focus on issues she knew better during interviews, while giving her a platform to campaign for a McCain-Huckabee ticket in the fall."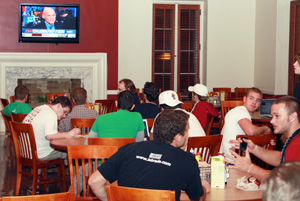 Vasquez also wondered if negative campaigning took a blow with Obama's election. "This election was a big setback for negative attacks on candidates' character," he said. "While John Kerry's election bid in 2004 was torpedoed partly by groups like the Swift Boat Veterans, the public did not appear to lend much credence to frequent inferences that Obama was a friend of terrorists or explicit charges that he was a socialist. The fact that Senator (Elizabeth) Dole lost her seat representing North Carolina amidst unfair claims that her rival was godless appear to support that conclusion as well.
The historical significance of Obama's victory struck long-time Professor of Political Science Melissa Butler. "When Lyndon Johnson signed the 1964 Civil Rights Act, he noted that this would cost the Democratic Party for a generation," she said. "In 1968, the Democrats self-destructed at their Chicago National Convention. Richard Nixon won in November and used a "Southern Strategy" to begin to forge a new electoral coalition based on what Ben Wattenberg called the 'unyoung, unpoor and unblack.'
"Last night we came full circle as an African-American stood right there in Grant Park, (ground zero of the Democratic Party's 1968 implosion), with an electoral victory helped along by the votes of what may be a new and lasting electoral coalition of young people, of African-America and Latinos, made a magnanimous and inclusive victory speech."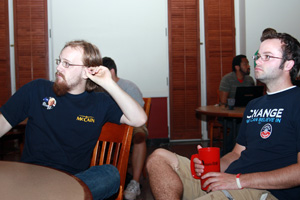 But some were looking beyond the political significance of Obama's win to its impact on our democracy.
"It is difficult to say exactly what a Barack Obama presidency will mean for American democracy," Director of the Malcom X Institute Tim Lake said. "Indeed, it is doubtful if anything about how our government works will change. Neither is it certain as to what it means for Americans of all hue, class, region and gender to have elected Obama to the highest office in the land. The answer to these concerns will depend less upon Obama and more upon what we do as American citizens with a globalized sense of our humanity and common destiny.
"As the first decade of the 21st century wanes, what is rousing about Obama's election is the hope it springs that the lofty virtues of democracy might not as yet give way to the petty aims of tyrants, oligarchs, and plutocrats. Certainly, race matters in American democracy and it will continue to matter in Obama's presidency, however, the question of the 21st century is the very survival of democracy itself. And, here, what we do will matter most of all."
Butler compared the emotional impact for African Americans to that she felt as a Catholic in 1960.
"I thought back to the 1960 election and how much John Kennedy's victory meant for me as a child growing up in an almost exclusively Irish-Catholic neighborhood in Philadelphia," Butler said. "Most Wabash students might be surprised to hear this, but in the 1960s, Catholics were, to an extent, on the margins of society. Kennedy's success, with all his enormous gifts, meant that we, too, had arrived. We were really a full part of America. I can imagine that many African-Americans will experience the same kind of joy this year."
Finally, Hadley had some unusual historial analysis.
"Warm weather and Indiana presidential voting? Apparently it is the case that the temperature on election day in Indiana has reached or exceeded 74 degrees four times since 1900," Hadley offered. "The Democratic candidate for President won three of those (2008,1964, and 1932). The fourth time, 1916, the Democratic candidate lost by eight-tenths of one percent.
In photos: Top left, Gary James and Sean Clerget each had reason to celebrate Tuesday night. Clerget's man Mitch Daniels won re-election as Indiana Governor while James' organizing work for Obama paid off. (Photo by Elijah Sanders '10) Center right, Brent Kent '08 discusses returns with Paul Vasquez. (Kim Johnson) Bottom left, many students turned out to watch the results. (Sanders). On home page, Jeremy Bird in his office during the Pennsylvania primary. (Hewitt) Lower right, Tony Scheetz '10 and Jay Horrey '09 keep an eye on the electoral count.