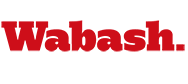 Little Giants Nab Fourth NCAC Crown
by Howard W. Hewitt

November 1, 2008

Wabash College's Little Giants have now won or shared four consecutive North Coast Athletic Conference championships after Saturday's 60-7 win over Oberlin. Wittenberg won or shared five straight from 1997-2001. The victory also secures a second straight trip the NCAA Division III football playoffs.

See photo albums here, here, here, and here. For some Champion photos, click here.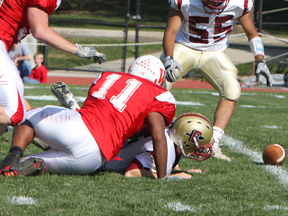 The win actually assures Wabash of no worse than a tie and with a win at Hiram (2-6, 1-4) next week the Little Giants own the championship outright. The NCAC conference championship trophy was presented to the team by President Patrick White in post-game ceremonies.
"It's amazing that our seniors in their four years have never experienced anything other than winning the conference championship," Head Coach Erik Raeburn said. "That's a pretty impressive feat. I'm pretty proud of it."
Raeburn, in his first year as Little Giants coach, has guided the team to a No. 3 national ranking, eight straight wins and a perfect 6-0 conference mark.
"I'm real happy with the first year so far," he understated. "Certainly for the senior class it's a difficult thing when you have a coaching change. It's tough on everybody but particularly tough on the guys who are going to be seniors and they're going to make or break you. If they decide not to buy in, then nobody else will either. I'm really thankful that group of guys gave us a chance and trusted in us and bought in to what we're trying to do and making the transition smoother than it could have been."
Buying in might even be an understatement. Against the injury-depleted and overmatched Yeoman, Wabash rushed for 264 yards on the ground and 282 yards passing. All but 11 of the passing yards came in the first half.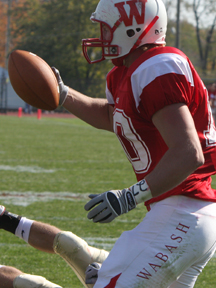 Wabash's starters did not see action in the second half of play. Still, the offense rolled to 546 total yards to Oberlin's 183.
The second half belonged to Wabash's second string and younger players.
"You want to put those young guys in and give them a chance to run your offense and execute the defense but at the same time you don't want to do anything that would embarrass the other team," Raeburn said. "I thought our young guys that got to go in there in the second half played hard, gave real good effort and for most part executed pretty well."
Wabash recognized its seniors on Senior Day and none had a more joyous time that reserve senior running back Adam Pilli. Pilli ended up leading all rushers with 99 yards and a touchdown, the second of his Wabash career.
"It felt pretty good out there," Pilli said. "Whenever I can get in and get some carries it feels good. The line blocked awesome and it was just a good to get a touchdown. But it also felt really good to see how those seniors who went out and played who don't always get a chance to get in there – that was awesome to see."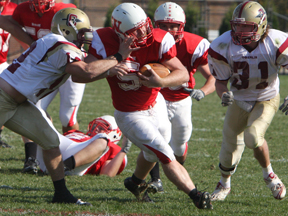 Pilli was one of 10 Little Giants to carry the ball. Freshman Isaac Baker was next on the rushing chart with 52 yards and a touchdown. Bobby Kimp had two scores, while Derrick Yoder, Evan Sobecki, and Matt Hudson each had a rushing touchdown.
Eight different receivers caught at least one pass in the contest, with none of them having more than three catches.
The game's touchdown catches were claimed by tight end Scott Liska, while freshman receiver Jonathan Horn got his first Wabash TD.
The statistics were similar for the defense with plenty of players seeing action. Jake Martin had a total of six stops. Darryl Kennon had four stops and a sack to become Wabash's all-time sack leader.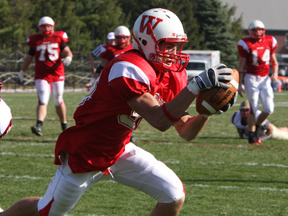 Wabash heads to Hiram for the first time in recent years to finish out the NCAC portion of the schedule. Then will return home to the Monon Bell Classic and Depauw.

Raeburn has been proud of the way his team prepares for each opponent.

"Championship teams prepare the same every week regardless of who they're playing," Raeburn said. "Certainly when we play Depauw there will be a big crowd and a bunch of excitement on campus and the atmosphere will be different but our preparation shouldn't be any different. This week we got that. Our guys came out to practice and they went to work. They tried really hard on some of the areas we need to work on, hopefully we get that out of them this week too."

Photos by Jim Amidon

In photos: Top left, Kennon gets his record-setting sack. At right, Liska celebrates his touchdown catch. Center left, Pilli picks up yardage. Bottom right, Horn gets the first touchdown catch of his Wabash career.




Results: Wabash 60, Oberlin 7 Game Stats