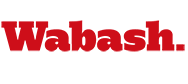 Rhetoric's 15th Moot Court Finals Tonight
October 28, 2008

The Moot Court is sponsored by the Wabash College Rhetoric Department with the assistance of a large number of Wabash graduates now in law practice.

The finalists include a senior, junior, two sophomores, and a freshman. Last year Nicholas Maraman won the title as a sophomore. He is studying abroad this fall and not able to defend his win.

Grant Gussman '09, winner of last school year's Baldwin Oratorical, and Alex Ingrahm '10 will be the petitioners in the case. The respondents will be Trevor Counceller '12 and Steve Maynard '11.

Each year the practicing attorneys and Rhetoric Department line up a distinguished panel of judges. This year's panel include Elaine B. Brown, Indiana Court of Appeals 5th District, Gary R. Roberts, Indiana University School of Law, Indianapolis, Jay L. Toney '83, Randolph Circuit Court, Todd McDorman, Associate Professor and Chair, Department of Rhetoric.

This year's case concerns the constitutionality of a state law that made it a crime to promote or sell sexual devices. A case summary is provided for those attending.