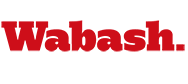 Cotterill '99 Loves Working in Mayor's Office
by Howard W. Hewitt

October 22, 2008

 

INDIANAPOLIS, In. - There are lawyers who like to litigate. There are lawyers who like to make things work and find efficiencies. Chris Cotterill '99 has learned working in the private sector, state government, and now as Corporate Counsel to Indianapolis Mayor Greg Ballard that he's definitely in the latter category.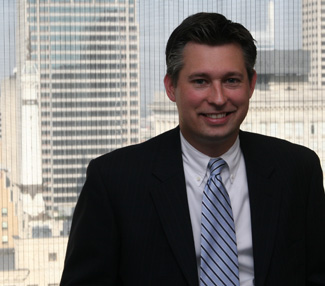 "I am the kind of person who wants to know your strategy, what are your goals, and how can I help you formulate the strategies to get to those goals," Cotterill said of his first meeting with Ballard. "I am the lawyer who is much more interested in the workforce, our contracts, and how much money we're saving.
"There are lawyers more interested in litigation, the latest Supreme Court cases, and that sort of thing. You need those people, but I am one of those who will want to get into the management and broader discussions about the law."
In a way his philosophy reflects his time at Wabash College. He wanted to go some place special, a challenging college and chose Wabash after attending the 100th Monon Bell game. He learned about the Bachelor newspaper from a Delt pledge brother.
"I was involved in the Bachelor a lot and the classes were sort of number two," he admitted. "I think most students talk about their relationship with professors. My relationship was with staff. My major flaw is that I like to lead. So my life lessons have been about overstepping."
As a young man he was getting involved in the student newspaper but saw an organization without a leader. The paper was not coming out regularly and didn't look great.
Cotterill stepped in and took over his sophomore year. "I just said 'this is how we're going to do this thing, we will always come out on time, our baseline is always going to be 16 pages and we will never go under that.'"
It amazes him to this day that people still remember things he did while he served as Bachelor editor.
The interest in communication came natural to him. His parents helped start the popular Indianapolis Monthly magazine, then Indianapolis Business Journal, and then founded CEO Magazine.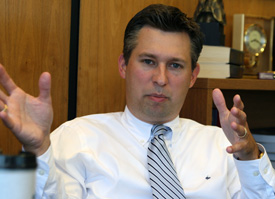 "They had been through the ups and downs of entrepreneurship and I think my Mom liked the kind of consistency of what she saw in lawyers. I thought that was something I could be good at. I liked the lawyers I had met. They were successful, they seemed happy with what they were doing. But I didn't figure out the kind of lawyer I wanted to be until very recently."
Cotterill oversees a staff of 45, including 28 lawyers, for the city of Indianapolis.  He relishes the diversity of each work day. "It's funny because I don't think I'm an attorney for most of the day," he explained. "I left the law firm thinking maybe I don't want to be an attorney. I worked on contracts at the state but what became interesting to me was how we connected, what were the problems consumers had, and what we could do to solve those problems.
Cotterill left Wabash for law school at Indiana University. He landed a job at the prestigious Barnes and Thornburg law firm where he stayed three years before going to work in the Indiana Office of Technology. His transition from law to politics and public service was spurred by Mitch Daniels.
He worked on Daniels' transition team and joined the office of technology. He spent that time working on security problems, the state website, and contracts but always felt he could do more.
"I felt that I had a good time there, that it was productive but it was probably time for me to do something different," he said from his City County Building office. "Then someone suggested I go to work for the new Mayor."
Cotterill said it all began in conversations with Ballard about his needs in a new administration. "I am about implementing," he said. "You have a law, we will make sure it's legal, we will make sure it's not overly done in terms of what we are writing, we will reduce the regulation, but I want to be involved in the implementation."
Even overlooking Monument Circle, he smiles impishly when thinking about his current job and the sound of his idealistic view. "I do wonder when in the rest of my life if I will get to sit at the table with the mayor, and the rest of the elected officials, and think about and work on the problems that plague our society. I love talking about things that really might change the factors and the incentives to allow our society to be better.
In a Works in Progress feature in a 1998 Wabash Magazine, Cotterill admitted a love of politics and maybe even becoming a U.S. Senator. He laughs when reminded about that today. And if pressed on a possible political run or future office, he answers like a candidate.
"I don't know. I feel like it is not very modest, but it would be hard for me to imagine being in the general assembly, not that those aren't great things people do, but it's not my interest. I want to manage the budget and help with priorities. Deliver, deliver, deliver. A huge part of that is making sure you have the right team, train people to make them more productive and send them out. Making those sort of decisions, that's what I like to do."
Cotterill lives in Indianapolis with his wife and a son and daughter.