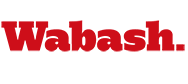 Former Wabash Professor Delivers Eric Dean Lecture
by Patrick McAlister '10

October 21, 2008

 

Religion and Politics – two facets of life mixed constantly and with great controversy were the subject of the 2008 Eric Dean Lecture in Religion on Monday evening. Emory University Associate Professor of New Testament and Christian Origins Michael Brown outlined his thoughts behind the role of politics in the Early Catholic Church to a packed crowed in Center Hall room 216.

Dr. Stephen H. Webb '83, a close friend of Dr. Brown's and the person who selected him for the lecture, noted the person selected usually has a strong connection to Wabash.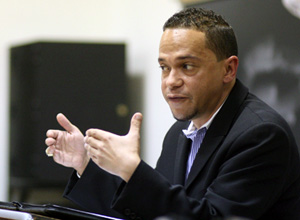 "(Dr. Brown) taught at Wabash for four years," Webb said. "He was a very popular teacher here on tenure track. Then Emory University came in and swept him away with a very nice offer he couldn't refuse. Michael has stayed loyal to, is interested in and cares deeply for Wabash. He's one of my best friends."
Brown's lecture was a small portion of a larger project he calls 'Living Together,' which focuses on how Christians and non-Christians in the first four centuries of the Common Era got along. This specific talk analyzed how Christians functioned as a part of the larger civic community as well as what role Christians played in shaping that community.   
At the beginning of the talk, Brown noted that his lecture was, in many ways, him "thinking out loud." After the talk, three Wabash professors (Drs. Brouwer, Royalty and Webb) helped Dr. Brown with his ideas by engaging in a rigorous dialogue about the ideas he posited. Dr. Brewer was impressed with the overall organization of Dr. Brown's lecture.
"I thought it was an amazingly well organized talk," said Dr. Mark Brouwer. "In spite of his claim that he was just rambling, I thought he had a very interestingly, if not fully developed in this lecture thesis.
He's someone who's thinking philosophically about actual writings and actual people in a way that I find it exciting precisely in so far as it makes old books relevant in a way that is rigorous."
Students who attended, such as sophomore Adam Brasich, appreciated the dialogue between the professors.
"I thought that the lecturer gave a very vivid description of the shift in the view of poverty and community in the early Christian community," said Brasich. "The vigorous back-and-forth of the Q&A session following the lecture definitely helped clarify the lecturer's position.
He certainly provided a viewpoint and material that probably wouldn't have been available on campus otherwise. I was extremely pleased by the amazing turnout and by the fact that so many students came out to listen to what he had to say."