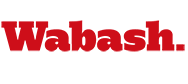 Theta Delta Chi Basking in National Awards
by Howard W. Hewitt

December 9, 2008

Theta Delta Chi's recent Chapel Sing win is just the latest in a string of successes in 2008. The Theta Delts had finished in the top five at Chapel Sing before, but won it outright this year.

That just continued a trend for Wabash's smallest, but growing, fraternity.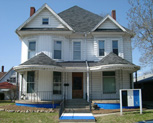 Theta Delta Chi received recognition at the fraternity's national convention in August at Las Vegas. The Wabash chapter, Upsilon Deuteron, won two major awards: Robert N. LoParo Philanthropy and Service Cup, which is awarded to the chapter that "devotes itself to bettering its social being." The Wabash chapter also won the Guy C. Pierce Improvement Cup, given to the chapter that "shows the greatest improvement."
The chapter was second nationally in the Victory Cup, "awarded to the chapter with the best overall record for the year."
For their efforts, officers Kyle O'Keefe '08 and Jim Leuke '09 were featured on the cover of the latest issue of the Theta Delta Chi magazine, The Shield.
"This is a tremendous accomplishment for a Wabash fraternity that looked as though it might be near extinction with dwindling numbers and poor morale 3-4 years ago," said chapter advisor and Professor of Religion Jon Baer. "Our Theta Delts have worked tremendously hard to bring new life and energy to their Charge, and we as a college should be very proud of them."
The chapter had dwindled to five members in 2005, Baer wrote in a letter of recommendation to the national fraternity. Moral was low he said and the future was much in doubt. The chapter changed its recruiting and pledgeship process and has grown significantly since.
The Theta Delts currently have 23 brothers and nine pledges, making for tight quarters in their Washington Avenue house.
That's a problem which concerns current President Grant Gussman, even as he celebrates recent successes.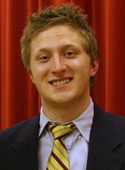 "By increasing our membership so much, we've begun to stretch the limits of occupancy in our tiny old house," Gussman '09 said. "We've tried to maximize the space we have (i.e. renovating the basement to make it livable, building a loft in the cold dorm), but we still can only accommodate 25 people (about 18 comfortably). We are in the process of writing and revising a proposal for a new fraternity house, which we hope to submit to the College soon."
Gussman also noted the house has achieved a grade point average above the College average in the past few years. He notes the fraternity members have become much more involved in campus athletics and extra curricular activities.