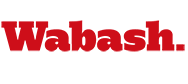 Little Giants Ready for NCAC Showdown
by Howard W. Hewitt

October 16, 2008

The Monon Bell game has a 115-year history. Wabash leads that series 53-52-1. The Wabash-Wittenberg series is a blip in the history book by comparison. Wittenberg holds a 6-5 series edge.

But minus the size of the crowd, the annual tussle with the Tigers from Springfield, Ohio, rivals the intensity felt only in November with a Bell as the prize. Increasingly each year, 'Bash and Witt' battle for a prize less symbolic but more tangible — a spot in the NCAA playoffs.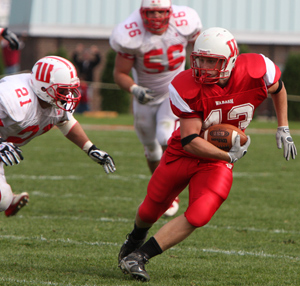 The 5-0 Little Giants travel Saturday to Wittenberg (4-1) for the North Coast Athletic Conference's annual showcase game. For Division III football fans, it really doesn't get much better. Wittenberg has won 674 times in its 115-year history — more than any other small college team. Wabash is sixth on that list with 591 wins in 122 years.
Both teams routinely field championship-caliber squads. The two have accounted for eight of the last 10 NCAC titles. The Tigers won or shared NCAC titles from 1997-2001 and shared the 2006 crown with Wabash. The Little Giants won outright championships in 2002, 2005, and 2007.
Both teams point to this game and the home team has usually enjoyed a home-field advantage. Wabash won at Wittenberg in 2002 and last year the Little Giants claimed a 24-17 win at Crawfordsville in a game that came down to the final snap.
The Little Giants have won 13 straight NCAC games – the last conference lost came to — not surprisingly — Wittenberg in 2006.
"Wittenberg is a tough, physical football team," said Erik Raeburn, who will be making his first trip to Springfield, Ohio as th Wabash coach. "They don't lose many games, and certainly very few losses come in Springfield. They have a great tradition. Their teams always play hard, and you know when you line up against them you're always going to have to play your best game to get a win."
The Little Giants have improved through their first five contests and bring some gaudy statistics to the Witt clash. Wabash boasts the nation's top Division III offense at 46 points a game. Despite losing its starting quarterback Aaron Huffman in its lone loss to Washington University earlier this year, the Tigers are averaging 34 points.
Wabash is the top kickoff return team in Division III and third in total offense. Witt holds its opponents to less than 100 yards rushing and has the ninth rated rushing defense.
The Little Giants were a stone wall last week against Washington allowing just 14 rushing yards.
"We're playing better on defense," Raeburn said. "We're more physical. We're playing faster and we're breaking to the ball better than we did at the start of the season.
"Offensively, our running game is going much better now. I think we're doing a much better job mixing the running and passing game together."
In recent history Witt has been able to largely concentrate on the Little Giants' high-powered passing attack, and with Matt Hudson hitting on nearly 70 percent of his passes and collecting 20 touchdowns thus far, 2008 is no different. But Wabash has rushed for more than 200 yards in three consecutive games — a statistic not accomplished since the 1985 season.
It's a fight the two teams anticipate, embrace, and play out with a high intensity level.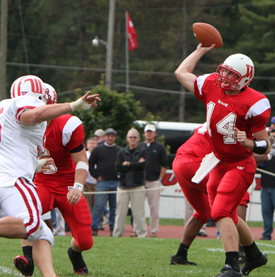 "There is rarely a week that is comparable to this week," Wabash quarterback Matt Hudson wrote on his student blog this week, noting the Bell game as the only game matching the Witt intensity.
"I can't wait. We're going to Springfield to battle Wittenberg. I don't use that term lightly. It's going to be an absolute battle," said Hudson.
While both teams have been known to use strong words describing the other, there is great respect.
"They're the big dogs," Wittenberg linebacker Brad McKinley told the Springfield News-Sun, "and everyone wants to be the big dog."
Big games often change on turnovers, and Raeburn echoed that familiar theme. "With the exception of the Kenyon game, we really haven't been able to create many turnovers. We've been a little sloppy with the football. Last week we threw an interception at Washington University. We have to create more turnovers and be very careful with the football."
If you're traveling to Springfield or listening on WNDY radio or at www.teamline.cc, there are some keys to watch and listen for during the game. Both teams have big physical lines. Which team is winning in the trenches? Can Witt's defense penetrate the huge Wabash O-line and get to Hudson? Witt usually stays in single coverage on wide receivers, so will Kody LeMond be left with single coverage? Wabash's secondary has not been strongly tested. Witt has tall and speedy wideouts and a solid running game.
Battle or dogfight — it's Division III football at its very best.