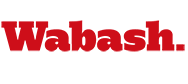 Nate Clark '03 Expanding His Art in Portland
by Howard W. Hewitt

October 15, 2008

PORTLAND, Or. - Artist Nate Clark '03 is hitting stride in Portland, Oregon.

The Illinois native came to Wabash thinking he'd go into pre-med studies. But he never felt comfortable pursuing that path. He'd always drawn and now credits the Wabash art faculty for giving him his life's path.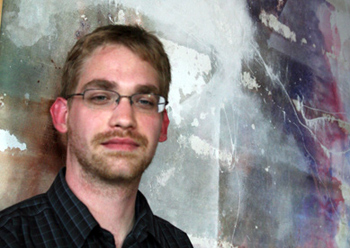 It's not easy to make a living as a painter though, the young struggling artist cliché is more than a stereotype. After graduation he moved home to rural Illinois and showed some paintings and even sold a few, but supported himself by substitute teaching.
He was going to have to make a big move to make it as an artist so he picked up and headed to Portland, Oregon. Clark explains his paintings in thoughtful phrases, while some would broadly characterize his work as modern or abstract art.
"What I define it as is 'exercises in composition with particular attention to the accident,' " he explained. "I mean when I am composing an image I'm thinking 'well what am I going paint or what do I want to do? A lot of those questions relate to everyday life, and so I guess that's what interests me about my paintings. That's how I think of them as being defined as exercises in composition."
He was heavily influenced at Wabash by Professor Greg Huebner and by a visiting Japanese artist, Rikuo Ueda. Rikuo has used mechanical devices to create art. He has used wind to guide brushes across canvas.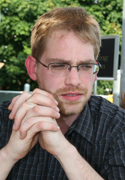 "I should say that I came to Wabash ignorant of what art can be," Clark said. "Huebner and Doug Calisch filled me in and gave me some perspectives that I wouldn't have had otherwise.
"As an artist, you are making an image. I thought I had control over what I do and Rikuo sort of blew that notion apart for me. After I left school it became clear to me how much his art influenced mine, in a sense his process is sort of making marks through the medium of the wind. It raised a lot of questions for me about why we choose to make the marks we do."
Clark chose to pursue his career in Portland not just for his art but also for its progressive music and cultural environment.
"The other love of my life is music and I play in about five bands," Clark said. "It's something that means a lot to me and a lot of the bands that I thought were doing the most interesting and progressive stuff were in Portland. For young people who are concerned with being hip, Portland is a Mecca. As a secular liberal progressive, it feels like home out here, to me. It's an interesting city in many respects, and I decided it would be a great city to try out."
And the move seems to be paying dividends. He plays guitar, bass and upright bass for those five bands and is starting to make his mark as a young artist. He had a major showing of more than 30 pieces in the summer of 2008 at Hopworks, a Portland hotspot brew pub.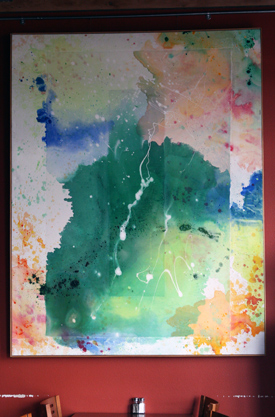 From brewpubs to galleries, he feels Portland has helped him considerably. "It is a very progressive area," Clark said over dinner at Hopworks. "There are a lot of bikers, the city goes to great lengths to promote public transportation. Most cities are decreasing their public transportation while Portland is increasing it.
"It is also just really beautiful area to live in. It gets interesting people out here. It's very progressive."
He has participated in the Portland Round – a two-hour show with musicians, poets, and an artist or two painting during the evening. "It's through these things that you develop a sense of community and allows me to do shows. I can share and develop ideas. I feel I have been very successful out here."
Still, he notes that most artists don't reach commercial success until their 30s and 40s. It's tough for artists, and especially abstract artists, to get into galleries.
"But I feel like I'm on the right track and in the right place."
Wabash was the right place for Clark, thanks largely to his grandfather. Norman Wilson, a 1950 graduate, talked a lot with his grandson about Wabash. Wilson passed away in the summer of 2008.
Clark credits the track he's now on to Wabash and the Gentleman's Rule. "It really sort of instills an ethical sense of doing good," Clark said. "You know there are a lot of competing notions of manhood out there and what it means to be a man, and Wabash has defined that for me so eloquently in my life. A mature view of manhood is not given to a lot of kids, but I would say that is how it has effected my life, a morality and doing what you feel is right, and for the right reasons."