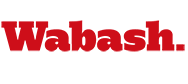 Wabash Day 2008 - Noblesville
October 14, 2008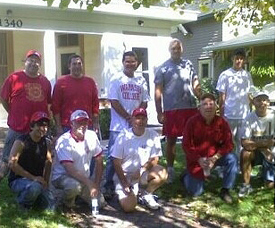 On a shady street on a sunny day in the cozy capital of Hamilton County, 12 Wabash Men – including alums from each of the past 5 decades and making up in energy and humor what they lacked in talent and skill – braved beautiful summer-like weather to assault a variety of home repair tasks for the benefit of the Promising Futures residence managed by the Hamilton County Youth Service Bureau. The Promising Futures program provides education, life skills, pregnancy management services and a safe residence for teenage girls who lack a safe or welcoming home with their families. The residence, just opened this past spring, houses four young ladies, who are accompanied by a 24/7 staff that provides support and education. Additional girls are also served through educational programs and other HCYSB efforts (www.hcysb.org).
WABASH Day activities included:
· Cleaning, repairing, and painting window frames and trim
· Installing a variety of hardware items throughout the house
· Cleaning and staining wood lawn furniture
· Sealing grout in recently refurbished bathrooms
· Hanging storm windows
· Painting/repairing exterior doors
· Staining an exterior stairwell
· Painting a storage shed
· Trimming shrubs and performing basic lawn maintenance.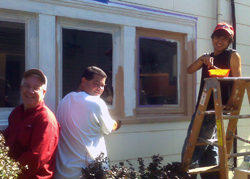 Our activities wrapped up all but one of the remaining "to-do" items on the renovation checklist for the facility. Over the past two years, the home has been completely renovated thanks to countless volunteer hours (including WABASH Day 2007) and community donations to HCYSB. HCYSB's out-of pocket renovation/repair costs for a COMPLETE gut-remodel of the facility amounted to less than $2000. That's an impressive display of community effort!
Following completion of the day's work, several gentlemen gathered for refreshments at the Barley Island Brewing Company in Noblesville, hosted by Jeff Eaton '85, proprietor.
Participants: Jim Dashiell '68, Brad Johnson '71, Lee Clark '73, Mark Dill '75, Frank Horvath '85, Noel Horvath (Frank's son), Matt Kress (Dave's son), Greg Estell '85, Subhi Khudali (exchange student from Azerbaijan living with Estells), Tom Graham '85, Dave Kress '89, Scott Quick '89, Joe Samreta '95, Cam Starnes '04, Nate Storey '05.