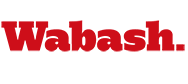 Schroeder Career Center to Sponsor Talks by Job Related Experts
by Karen Handley

October 14, 2008

Get directions to Wabash College Fine Arts Center

The Wabash College Schroeder Career Center will sponsor two talks next week for students who want to succeed in the working world. Lisa DiTullio will present, "Want Success? Try Vanilla," at 7 p.m., Monday, October 20, and Ellen Augustine will discuss, "The Job Market Advantage: Understanding Green Principles and Local/Global Myths," at 7 p.m. Tuesday, October 21. Both events will take place in Korb Classroom in the Fine Arts Center.

DiTullio's one-hour program educates, entertains, and advises students on how to avert professional mishap by recognizing and developing simple core competencies to promote project and business success. By attending DiTullio's program, students will learn how to balance project assignments with their "real" job; acquire teambuilding skills, including dealing with difference among team members; develop leadership skills when forced to do "more with less"; and perform well under tight deadlines and competing priorities. DiTuillio says that this program is what students need to know to be successful in today's project-oriented business world.

Augustine's program will help students will understand how they can incorporate sustainable practices and principles into every profession, not just Eco-careers. Augustine is an inspirational speaker and author on new options for thriving green economies. Her stories profile people who are creating businesses, which increase profits by being eco-friendly, and those who are revitalizing communities and renewing the environment. She ran for U.S. Congress and founded/co-founded four nonprofits on international citizen diplomacy, media violence, mentoring at-risk youth, and environmental sustainability. She is a contributing author to A Game As Old As Empire: The Secret World of Economic Hit Men and the Web of Global Corruption. She is co-author of Taking Back Our Lives in the Age of Corporate Dominance. Augustine has been featured in Utne Reader and Hope Magazine, received the Women of Achievement and Thread of Hope Awards, and was named one of 21 Visionaries for the 21st Century.
The Crawfordsville community is invited to both talks.