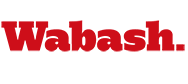 Wabash Day 2008 - Portland, Or.
by Dan Schenk '95

October 14, 2008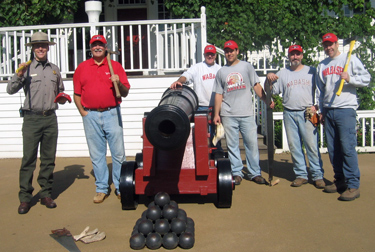 The Portland Area Wabash Alumni spent the day at Fort Vancouver. We split firewood, stacked it in the reconstructed Bake House and Kitchen, and cleaned up the interior of the Bake House. Wood fires are an essential component of keeping the historic scene at Fort Vancouver. Rangers and volunteers in costume lead cultural demonstrations in the Bake House and Kitchen throughout the year, and in the colder months the wood stoves provide the only heat for visitors and staff in these buildings.
Our work had a direct impact on visitor enjoyment and the success of public programs! There were many great moments, but two key highlights:
- We spontaneously broke into Old Wabash during the team log cut (in photo at right). While it is the greatest fight song ever, we all agreed that it doesn't really feel like a work song.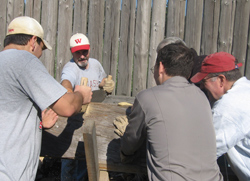 - As the Chief Ranger and Historian of Fort Vancouver, Greg gave us all a behind the scenes tour. It was inspiring to see someone who so clearly found his perfect job.
After our work, we enjoyed a great lunch where we talked politics, economics and Wabash – all while enjoying some TWR.
Participants in photo left to right: Greg Shine '90, Bob Chamness '75, John Greves '68, Ian Bisbee 07, Mike Wells '93, Dan Schenk '95.