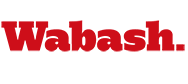 Wabash Day 2008 - Greenwood
by Ian Bonhotal '12

October 13, 2008

Since its inception, Goodwill has been synonymous with philanthropy and altruism. Wabash alumni, and one student-to-be, recognized this fact and volunteered themselves on Wabash Day in order to aid those less fortunate and to spread the spirit of giving back so ingrained within the Wabash ideal. See photos here.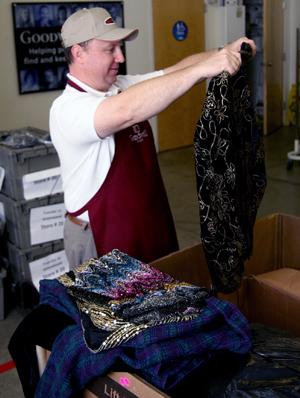 The alumni, Mitch Marcus of the class of '90, Bob Minardo of '87, and the hopeful tag-along senior Jake Fisher (future class of '13) arrived at Goodwill early in the morning, ready to work. The Goodwill staff took full advantage of their enthusiastic, if inexperienced help. The volunteers were placed in each step of the process at Goodwill, from unloading the clothing to sorting it. The passion of the alums shined from stop to step.
"I'm very thankful Bob organized this opportunity," said Mitch Marcus. "I think it's part of who we are to give back. It's part of who we are people, and also especially part of who we are as Wabash graduates. It's encoded within our greatest life law, the responsible citizen portion of the Gentleman's Rule which I think we still live by."
Wabash passed along its fervor for giving back in Jake Fisher. Fisher is a senior in high school who dreams of attending Wabash next year and becoming a part of a tradition he sees as being particularly relevant within his own family.
"My Dad and Uncle are heavily involved with Wabash and its volunteer events, and they urged me to become a part of Wabash as early as I could," said Fisher.
The alumni network of Wabash shines as a bastion of hope that responds when communities need it most. "I've participated in quite a few events for Wabash," said Bob Minardo. "Wabash Day is a great idea, and it's great of the alumni to get involved. Folks put out a call for help, and we respond with that help."
The Goodwill Industries project focused on assisting the Greenwood location with sorting various donated clothing and household goods into two primary categories: (1) those that could be stocked for sale within the store, and (2) those that would be transported back to a central warehouse and sold on a per pound basis. Those types of donated clothing and household goods are sold in over 2,200 Goodwill retail stores and on their Internet auction site, www.shopgoodwill.com. The revenues fund job training and other services to prepare people for job success