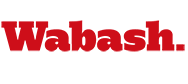 Wabash Rides Second Half Effort to Win
by Howard Hewitt

October 11, 2008

ST. LOUIS, Mo. – The Little Giants used a balanced attack, featuring three Kody LeMond touchdown catches, to overpower Washington University, 37-12, here Saturday.

Wabash passed the 200-yard rushing mark for the third consecutive week and LeMond added to his spectacular sophomore season raising his touchdown total to 12 with three more against the Bears. (View photos from the game here and here.)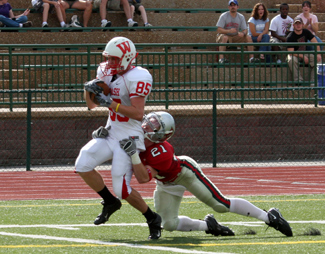 For the first time this season, Wabash couldn't score in the first quarter but put up 17 points in the second period. LeMond got things started when he broke free from a defender for a 30-yard score. Bobby Kimp then scored on a 17-yard run just five minutes later, 14-0.
Buck Smith scored from a yard out to get the Bears on the board. The score followed a beautiful short pass and 73-yard run by Greg Lachaud, who was aided by textbook downfield blocking. Washington scored again on a Kyle Gray 19-yard catch from Smith, 14-12.
Wabash closed out the half with Drew Oehler hitting a 34-yard field goal just before half.
Wabash (5-0) now prepares for its chief NCAC rival Wittenberg, in Springfield Saturday. Coach Erik Raeburn thought Washington, which defeated Wittenberg earlier this year, made for a good tuneup with its physical style of play.
"I felt like Washington University is a good football team," Raeburn said. "They're extremely well coached. Playing on the road, it was huge for us to play well and come and get a victory. Hopefully that will give us some confidence because we have to go on the road again this week .
"For the second week in a row our defensive line and linebackers really dominated up front and stopped the run themselves. We didn't have to bring any help from a safety that would make us vulnerable in the passing game. I'm really happy with how we played up front, being really physical again. And I thought we ran the ball really well again with Derrick Yoder , who I thought had his best game so far. Because of our running game we were able to hit Kody with some big pass plays."
The Bears could only must 7 rushing yards in the first half and only 4 first downs to Wabash's 13. Bobby Kimp paced the rushing effort with 93 yards for the game. Yoder added a career-best 82 yards on 14 carries. Evan Sobecki played in his second straight game, rushing for 28 yards in seven attempts.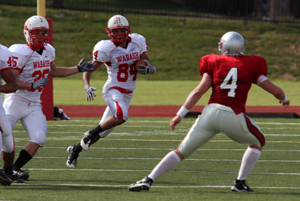 "We have a three-headed animal now that Sobecki's back and getting healthy," Yoder said, referring to the Little Giants' running game. "We have a full stable back there. We all can run the ball. If one of us is down, we know there are two other guys who can come in and get things done.

"A lot of our success is due to confidence. We're seeing the holes faster and we're getting through the holes faster. We know our assignments. We're confident in the offense and we know how to execute now."

Wabash didn't let up in the third period and took over the game. The Little Giants scored midway through the period on a three-yard Matt Hudson pass to freshman Brady Young, 23-12. Hudson then found LeMond again wide open streaking down the sideline for a 47-yard score, 30-12.

The defense proved relentless allowing the Bears just nine yards rushing and 28 passing in the third period.

Wabash's final score was more than LeMond's speed. He caught the ball in traffic and then outmaneuvered three defenders to race more than 20 yards into the endzone. His three Saturday touchdowns and 165 yards puts him just five touchdowns behind Wabash record holder Ryan Short, who caught 17 TD passes in 2002.

"We've expected teams to roll their coverage to Kody, and they have the last two weeks, " Raeburn said. "Because we've run the ball well, they've had to bring that safety down and once we get one-on-one coverage we feel like Kody's going to win that matchup more times than not. "

The defense was dominating for the second straight week.

"One of our goals is to play physical," junior defensive lineman Matt Whyde said. "One indicator of that is rushing yards. The past few weeks we've really been able to shut teams down in the running game, and that gets them into being one dimensional. Then you have a much easier time defending them because you know they can't run the ball on you.

"We have freedom to play this season. We're allowed to be aggressive and to get after other teams. We started a little slow, but everyone is really getting comfortable with the new scheme. This is just the result."

Photos - (top right) Kody LeMond broke this tackle and scored the first of his three touchdowns.

(Bottom left) Wes Chamblee caught three passes for 34 yards and had two kickoff returns for 73 yards in the Little Giants' win in St. Louis.




Results: Wabash 37, Wash. Univ.-St. Louis 12